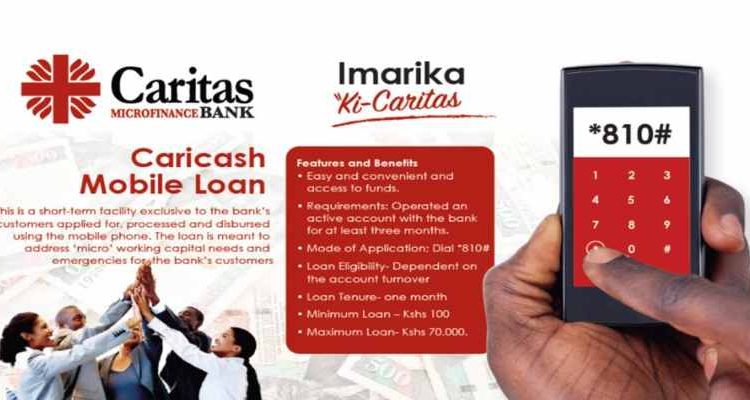 List of Caritas Microfinance Bank Loan Products
This article outlines the various Caritas Microfinance Bank loan products. On June 2, 2015, the Central Bank of Kenya allowed the bank to operate as a deposit-taking microfinance organization. Caritas, which was founded by the Catholic Archdiocese of Nairobi, is based in Nairobi at the Cardinal Otunga Plaza on Kaunda Street. The bank has six branches across the country.
Below is a list of Caritas Microfinance Loan Products highlighting various loans and how they can be used as a means of quick cash.
Caritas Microfinance Bank Loan Products
1. Caricash Mobile Loan
This is a mobile loan that is only available to bank customers. The loan is intended to meet micro working capital and emergency needs. The loan amount ranges between Ksh 100 to Ksh 70,000. It has a one-month repayment period. You can get the loan by dialing *811#.
2. Mustard Seed Development Loan
This product is intended to help micro, small, and medium-sized businesses grow. Working capital, asset purchase, and business expansion can all be accomplished with the funds. The loan term can be up to four years.
Read also, List of Faulu Microfinance Bank Loan Products
3. Insurance Premium Financing
This lending product is intended to meet insurance requirements. The customer can benefit from insurance coverage right away while paying their payments over time.
4. Asset Finance Loan
This product is intended to assist clients in acquiring tangible assets such as vehicles, machines, and other assets for commercial or personal usage.
5. Local Purchase Order (L.P.O) Financing
Clients that have received purchase orders or letters of Award can use LPO financing to deliver products and services or carry out the contractual activity. Caritas offers LPO funding ranging from Ksh 50,000 to Ksh 10 million. They charge a 3% processing fee and a 2% monthly interest rate on the balance.
6. Invoice Discounting
Invoice discounting allows a customer to receive instant value for their pending invoices. Caritas Microfinance advances payments to suppliers who have previously delivered bills to buyers for completed jobs.
7. Salary Check-Off Loan
This loan is only offered to salaried staff.
8. Salary Advance
This is a short-term advance designed to assist salaried customers in meeting urgent, minor home necessities such as rent or utility bills.
9. Hekima Education Loan
This loan provides access to high-quality education at all levels of schooling. The money is given to the school.
10. Solidarity Group Loan
This product is aimed at registered groups. It enables groups to fund development projects.
11. Institution Loan (Schools, Churches, Hospitals)
A loan instrument aimed at registered institutions to finance initiatives, asset acquisition, and so on.
Caritas Microfinance Bank Contacts
Location: Cardinal Otunga Plaza Annex, Ground Floor
Phone: 020 5151 500, 0729 986 331