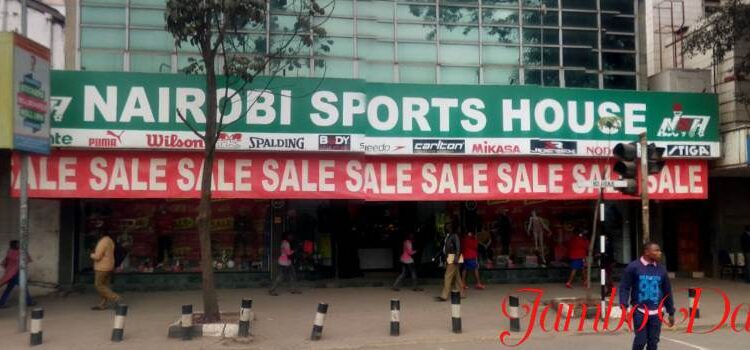 List Of Best Sportswear Shops In Nairobi
The top sportswear shops in Nairobi are listed below. Sports are frequently viewed as a method to unwind and stay in shape. It's crucial, especially in this generation where the lack of exercise promotes the growth of so many diseases.
It is required that you purchase all of your sports apparel, wear, uniforms, and equipment from the following shops and stores for your preferred activity.
Best Sportswear Shops And Stores In Nairobi
1. Nairobi Sports House
Nairobi Sports House was founded in 1988 to take over an existing firm that had been operating under the name Nairobi Sports House since 1949.
It is the biggest retailer and wholesaler in East Africa, specializing in sports, advertising products, educational supplies, communication tools, outdoor recreation, camping gear, and other gear like games, shoes, clothing, accessories, scientific tools, indoor & outdoor playing equipment, electronic games, bodybuilding, exercise, and trophy gear.
In all sports, including football, cricket, volleyball, tennis, badminton, table tennis, darts, and fishing, the company trades in the goods, gear, and apparel of reputable international brands. It also has agency or exclusive distribution rights for foreign companies in East Africa.
In Nairobi, the company operates retail and wholesale locations on Moi Avenue, Village Market, Garden City Mall, Yaya Centre, and The Hub Karen.
Headquarters Location: 86 Muthithi Road in Westlands.
Contact:254 721 201142
E-mail:headoffice@nairobisportshouse.com
2. Sportswear Outfitters
Sportwear Outfitters is a sporting goods retailer that carries a wide variety of uniforms, shoes, tracksuits, t-shirts, and leisurewear. Their store is situated on the first level of the Thika Road Mall on Thika Road, Nairobi.
Read List of Board Games to Play with Family and Friends
Contact them on Facebook at Sportswear Outfitters, 0723 402095.
3. M and E Sportswear
M & E Sportswear is a reputable retailer that specializes in sporting goods and other accessory-related clothing. It officially launched as a business in July 2015. Mand E now operates two locations in Kilimani and Parklands that cater to middle-class, generally well-off, fitness-loving people between the ages of three and seventy (3-70).
4. Decathlon Kenya
French sportswear and equipment retailer Decathlon was established in 1976. Decathlon creates its own items and markets them in 1267 locations across 35 nations.
You can choose from 36,000 books and pieces of equipment at Decathlon, which caters to more than 70 sports. Decathlon offers products of the highest caliber at competitive prices. For all sports enthusiasts, the equipment selection is inclusive of all skill levels.
Location: The hub Karen, Nairobi
Contact: +254 746 743638
Email: pascaline.asser@decathlon.com
5. Olympic Sports House
Olympic, which specializes in golf apparel and gear, carries a huge selection of shoes, clubs, spikes, caps, gloves, and balls. Rugby, tennis, basketball, and squash are some of the other sports that are offered. All of the top brand names, including Mitre, Fila, and Puma, are carried. Additionally, a huge variety of awards is offered.
Read List of Places to Buy Board Games and Their Prices
Location: Nanak House's ground floor on Kimathi Street in Nairobi.
Call (204) 20 34 0861 or (204) 20 22 2516.
6. Craigs Limited
One of the leading importers, wholesalers, and sellers of high-quality sporting goods in Kenya and the East African region is Craigs Limited, which was founded in 1930.
Craigs has developed from a company that sold general sporting goods to one that specializes in golf, tennis, and squash. Only real, authentic products from brands like Taylormade, Golfers Club, JS International, HEAD, and Pacific, among others, are used to represent them.
Visit their shop in the Westlands neighborhood of Nairobi's Sarit Center.
Phone: 0733 622601, 0714 781781 Email: info@craigs.co.ke
7. Sports Planet
Sports Planet is a well-known supplier and reseller of sporting goods around the globe. Adidas, Puma, Nike, Motion, Mitre, Grays, Spalding, Anta, Babolat, and Gilbert are just a few of the names in their brand portfolio. Look up their social media handles for more details:
Contact: 0742038788
Facebook- Sportsplanet Kenya
Instagram- SportsplanetKenya