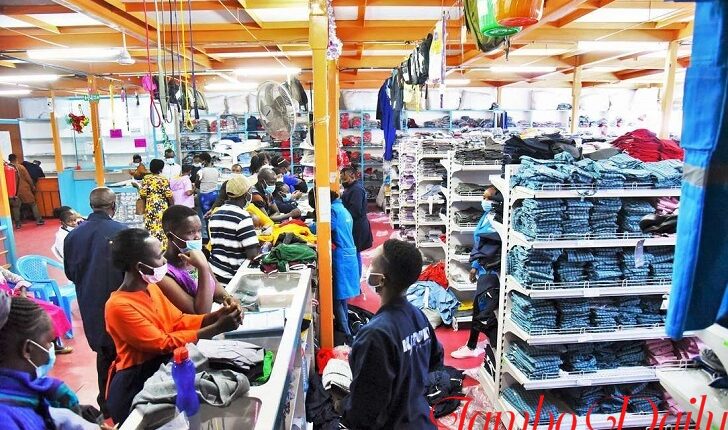 List Of Best School Uniform Dealers In Kenya
This is a list of the best school uniform dealers in Kenya. The companies on the list are renowned for producing high-quality school uniforms at affordable prices to suit the needs of every single person.
Here is a list of Nairobi's top school uniform retailers, in no particular order.
List Of Best School Uniform Dealers In Kenya
1. Tekiria General Suppliers LTD
The best manufacturer and supplier of complete uniform packages for various fields is Tekiria General Suppliers LTD. It is a Kenyan company with a focus on premium uniform suppliers, manufacturers, and services.
The business offers a complete bespoke design service to aid in the development and manufacturing of new school uniforms. For multi-academy trusts and federations as well as hundreds of schools, they offer unmatched school wear solutions that support the spirit and identity of the institution.
Contact: 0702 840 739
Email: info@tekiria.co.ke
Location: Githurai 45 off Thika Super Highway
2. Uniform Distributors Ltd
In 1972, one of the best school uniform dealers in Kenya, Uniform Distributors Ltd. was founded. It is a top supermarket for all varieties of uniforms and supplies for businesses, hotels, hospitals, and government agencies. All goods are of a high caliber and are reasonably priced.
Location: Duruma Road, Next to Kampala Coach.
Contact: 0733 456 422.
3. School Outfitters
In Kenya, School Outfitters is a well-known manufacturer and distributor of school uniforms. They produce and provide high-quality school uniforms at affordable prices to accommodate everyone's needs and budget.
Location: Along Muindi Mbingu Street.
Contact: 0725 937 458.
4. Image First Ltd
Image First is a one-stop uniform store committed to offering all of its customers the best school uniforms possible along with top-notch customer service. The highest quality uniforms are produced locally to the highest standards.
Location: Regal Plaza, Parklands.
Contacts: 0704 448 402, 0733 556 600.
Read Top 10 Bookshops in Nairobi Kenya
5. Kawa Garments Ltd
School, staff, and security uniforms are the focus of Kawa Garments, a reputable manufacturer of uniforms. The business is a trusted partner to many customers and has a wealth of industry experience.
Contact: 0716 020 055.
Email: info@kawagarments.co.ke.
6. Animet Ltd
Animet Ltd takes pride in offering high-quality uniforms for use in homes, businesses, and schools. Most private schools in Nairobi highly recommend it as their preferred uniform stockist, and it has become a household name for uniforms. The company has locations at Diamond Plaza, Yaya Centre, T-Mall, and The Hub Karen.
Contact: 0701 018 180.
Email: uniforms@animet.co.ke.
7. Keagles Knitwear
Leading producers and suppliers of corporate, athletic, and hospitality uniforms include Keagles. They offer a range of services, including apparel patterning, branding, sampling, and manufacturing for both big and little orders.
Location: KCB Plaza, Jogoo Road.
Contacts: 0713 532 720, 0733 500 501.
8. Riera Tex
High-quality school and staff uniforms are produced and supplied by the reputable company Riera Tex in Kenya. It provides high-quality, absorbent clothing that is also fade- and shrink-resistant.
Location: 1st Floor, Nightrose House, Kirinyaga Road.
Contact: 0725 843 984.
Read Affordable Online Clothing Stores in Kenya
9. Weaverbird Garment
Weaverbird Garments create sports kits, boys' and girls' skirts, shorts, dresses, sweaters, trousers, shirts, ties, and socks, as well as uniforms for elementary and secondary schools. They have locations in River Road, TRM Mall, and Thika.
Contact: 0722 264 464, 020 205 1487.
10. The Uniform Store
A new retailer of business and school uniforms is called The Uniform Store. It specializes in offering high-quality uniforms to businesses and schools in Kenya. Their stores are situated in the Galleria Mall and Lavington Mall.
Contact: 020 258 6997.