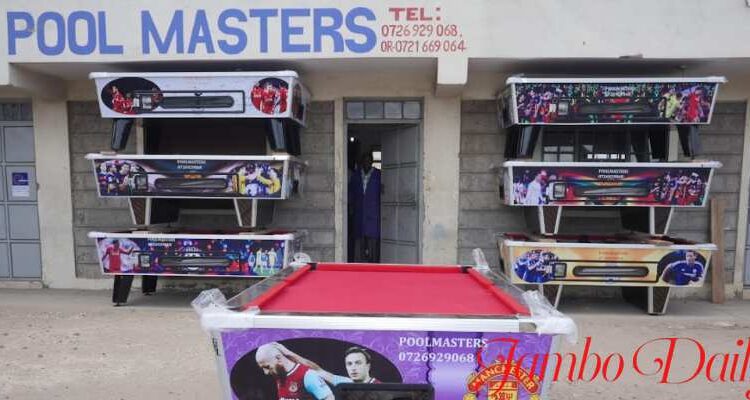 List Of Best Pool Table Dealers In Kenya
The best pool table dealers in Kenya are listed here. One of the most profitable business initiatives in Kenya is the pool table industry. You can enter the market as a dealer or a seller of pool tables and accessories.
The price of a pool table in Kenya ranges from Ksh 30,000 to Ksh 100,000, depending on the quality of the materials used to construct it. However, used pool tables are available for as little as Kshs 20,000.
Best Pool Table Dealers In Kenya
1. Pool Masters Kenya
In the East African region, Pool Masters is the top retailer of real pool tables and accessories. The business has locations in Kisii, Eldoret, and Nairobi. It assembles and sells high-quality, branded items and accessories for pool tables.
Read List of Board Games to Play with Family and Friends
Contacts: 0721 669 064, 0726 929 068.
Email: info@poolmasters.co.ke.
2. Pool Table Kenya
It serves as a one-stop shop for pool tables and accessories with exquisite designs and premium materials.
Contact: 0716 502 167.
3. Bovic Pool Tables
Bovic manufactures and distributes high-quality pool tables throughout the United States. Their pool tables are made with high-quality materials and to the highest standards.
Location: Bihi Towers, Moi Avenue, Nairobi.
Contacts: 0702 538 588, 0796 538 588.
Email: sales@bovic.co.ke.
4. Maroon Pool Tables & Accessories
They offer discounted prices on high-quality pool tables and gaming machines. They provide free transportation within Nairobi.
Location: Off Kamunde Road, Nairobi.
Contact: 0724 219 459.
Read How to Start a Pool Table Business in Kenya
5. Superlegue Pool Table Kenya
The company manufactures and sells high-quality pool tables and provides fee-based nationwide delivery.
Location: Along Outer Ring Road, Nairobi.
Contact: 0722 262 834.
6. Zion Pool Tables
They sell a variety of local and imported pool tables and accessories at reasonable prices.
Location: Eldoret.
Contact: 0720 251 452.
7. Kenice Pool Tables
They are well-known pool table dealers who are dedicated to providing high-quality pool table products.
Contact: 0700 260 997.
8. Mawaka Pool Tables Kenya
They sell quality pool tables and accessories of all types.
Location: Kariobangi, Nairobi.
Contacts: 0722 618 874, 0731 499 057.
Read List of Affordable Swimming Pools in Nakuru
9. Newtech Pool Tables
Newtech Pool Tables is a well-known manufacturer and seller of high-quality pool tables and snooker games.
Location: Near Cooperative Bank, Kariobangi Roundabout.
Contacts: 0723 062 220, 0720 415 444.
10. Kisumu Pool Tables
Unlike other companies that are within the city, the company is based in the lake city of Kisumu. They make both pool tables and accessories on order.
Location: Along Ring Road, Kisumu.
Contact: 0710 400 485.