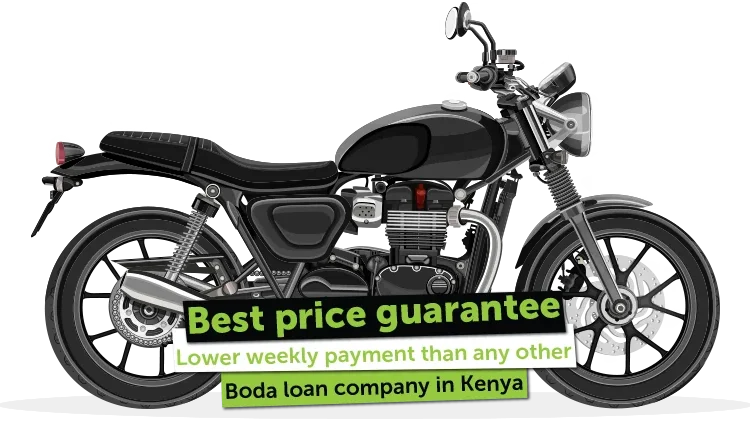 How to Get a Mogo Boda Boda Loan in Kenya
Are you wondering how to get a Mogo boda boda loan in Kenya? I guess this article will be good for you. The level of unemployment in Kenya is rising steadily due to a large number of youth coming out of schools into the already flooded job market. The situation is even made worse by the rising cost of living and inflation, forcing some companies and employers to lay off staff.
Many people are therefore resulting to self-employment through technical skills or through the service industry. The boda boda sector is one of the ventures that have acted as a remedy to unemployment in this country.
However, with the current hard economic situation in the country, it can be hard to buy food, let alone buy a car or motorbike. Boda boda loans have come to the rescue of thousands of youth, thanks to boda boda financing companies like Mogo and M-kopa.
Owning a boda boda has become easy nowadays and anyone willing to acquire one can do so in less than 24 hours so long as they meet the requirements that these companies provide.
This article takes you through how to get a boda boda loan from Mogo, a leading car and boda boda financing firm in Kenya.
MOGO is a leading automobile and boda-boda finance provider in Kenya. It is a subsidiary of Eleving Group, a global FinTech company with operations in 15 countries across three continents. Over the years that they have been in business in Kenya, the company has earned a reputation as one of the most dependable bodaboda, tuk-tuk, and automobile financing companies in East Africa.
They offer low-interest finance for old automobiles, logbook loans, Boda Boda, and Tuk Tuk loans.  For instance, you can acquire a Boda Boda within 2 hours thanks to their speedy and flexible service.
Without much ado, let us dive right into the process of acquiring a boda boda loan from Mogo Kenya.
Requirements when applying for a Mogo Boda Boda Loan
To get a loan with MOGO, you need to meet these criteria:
Provide 6 months' M-PESA statement
Provide National ID
Own KRA Pin
Be 23 – 65 years old
Have 1 guarantor
KES 25,000 down payment
Read also List of Boda Boda Loan Providers in Kenya
How to Get a Mogo Boda Boda Loan in Kenya
1. Visit a Mogo branch near you and select a boda boda of your choice
The very first step is to visit the nearest Mogo branch and ask to be shown the various types of motorbikes that have on the boda boda financing plan. You can then choose the model you want from the various choices available.
2. Choose loan conditions 
The second step is to choose the loan conditions of the boda boda you want. Loan conditions are available in different categories. You will then select a loan term ranging from 52 weeks to 112 weeks as you would prefer.
3. Fill in Your Contact details
You will then be required to fill in a contact form that your financier will use to contact you or share information with you.
4. Sign the Contract and Pay the Deposit
You will sign an agreement between you and the Financing company where you will be required to pay your loan obligations according to the selected plan. Then pay the required deposit of Ksh 25,000 which will act as a down payment.
Loan repayments may either be made on a daily, weekly, or monthly basis. For Example, Mogo offers a payment plan of Ksh 383, Ksh 364, and Ksh 381 for Boxer, TVS, and Haojin Motorbikes respectively.
5. Pick  your Boda Boda and start making payments
After making the payments and signing the contract, your boda boda will be ready within two hours.  All you have to do is ride your motorbike and start making payments as agreed with the company. Failure to make payments will result in repossession of your motorbike or further legal action.
Read also,  List of Tuk Tuk Loan Providers in Kenya
Conclusion: How to get a Mogo Boda Boda loan in Kenya
This is all the information you need to get started with applying for a boda-boda loan at Mogo. Make sure the required documents are ready by preparing the before visiting a Mogo Branch. Mogo also hires sales agents to take their potential clients through the process and make things easy. Clients who luckily encounter one may have an easy time going through the application process.