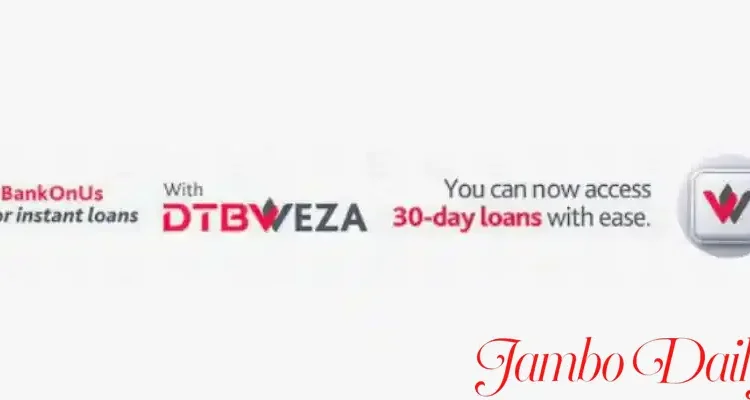 DTB Weza Loan Features And Requirements To Apply
This page focuses on the DTB Weza loan features and application requirements. Diamond Trust Bank Kenya Limited (DTB) offers an instant unsecured 30-day loan through DTB Weza. You can borrow as little as Ksh 500 and as much as your allotted credit limit.
This article focuses on DTB Weza loan , highlighting loan features, requirements, application process and frequently asked questions.
How To Qualify For DTB Weza Loan
You must be a DTB customer.
You have a DTB mobile banking account.
For more than six months, I have been actively transacting on DTB.
You must also have a solid CRB rating.
DTB Weza Loan Features
Available through the DTB m24/7 mobile app or by using the USSD code (*382#).
Loan funds are transferred to your DTB account immediately.
The borrowing term is 30 days.
When the loan is disbursed, there is a 7% processing fee.
How To Apply For DTB Weza Loan
a) Using the DTB m24/7 mobile app
Open the app – Select the Weza icon.
Choose your desired account.
Please accept the terms and conditions.
Enter your PIN to authenticate, and you will be routed to the main app screen.
When you click on the Weza symbol, your eligibility limit will be displayed on the screen, allowing you to begin borrowing.
b) Dialling the *382# USSD code
Dial *382# and then option 8 on your phone. Weza
Opt-in, then choose your preferred nominated account.
Accept the terms and conditions – Verify your identity by entering your PIN
Dial *382# and pick option 8 Weza (your eligible limit will be displayed on the screen for you to begin borrowing).
Loan Charges/ Interest Rates
Interest is charged at the current loan interest rate, which is now 13% p.a. (1.08% pm).
Loan processing fees are calculated at 7% of the loan amount sought.
20% excise duty on loan processing fees
All fees are collected upon loan distribution.
Read, Mwalimu Sacco Loans Types Requirements & Interest Rates
What Happens If You Don't Pay Off Your Loan in 30 Days?
Your loan repayment time will be extended by 30 days, and you will be charged a 3% rollover fee on the existing loan sum.
What should you do if you do not qualify for a loan?
Make sure you have a decent CRB rating.
Use your DTB account to make more purchases.
Maintain a positive account balance.
How to Increase Your Loan Capacity
Increase the amount of activity on your DTB account.
Increase your account savings
How to Pay Off the Loan
The loan can only be repaid from your DTB account.
DTB Weza Loan Customer Care Contacts
Phone: 0719 031 888,  0732 121 888
Email: contactcentre@dtbafrica.com