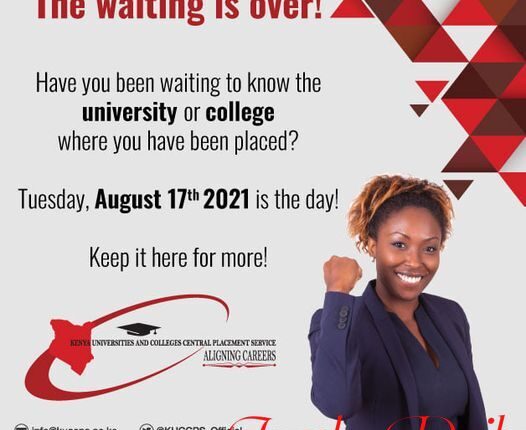 Just in! KUCCPS Placement Results To Be Released Tomorrow.
The Kenya Universities and Colleges Central Placement Services board has finally announced the dates that the placement results for KCSE 2020 candidates shall be out.
According to a Facebook post on the board's official Facebook page, the placement results shall be released on Tuesday 17 August 2021.
This comes as a relief to the candidates who have been waiting for the results for more than three months to no avail.
The board had earlier shown the possibility of releasing the results in July 2021 but postponed the dates to allow a third placement window for students who had not secured any of their selected courses.
Over the last few days, students have shown a lot of impatience and anxiety in regard to the placement results.
Most of the candidates have been waiting for the results to enable them to complete other activities in preparation for admission into various universities and colleges in September 2021.
Unlike other years, Kuccps had not released the placement results after the first application/revision window to allow for subsequent second revision for those who had not been placed.
All concerned candidates should therefore be on the lookout on Tuesday when the results shall be released.
Read HELB Subsequent Loan Application Procedure 2021/2022 Academic Year.
To check the results, candidates are expected to log in to their respective student portals using their login credentials as follows: KCSE index number as the username, KCSE Year, and KCPE index number or birth certificate number as the password.
Knowing your Kuccps placement results means that one can:
Start making preparations for admission into the university.
Apply for HELB first-time loan using the admission number provided in your official admission letter.
Read Also: HELB First Year Loan Application Procedure 2021/2022.
Review the course and institution you have been placed to and prepare for the inter-university transfer window if you are not pleased with the results.
There is a short time for preparation as the placement results have been delayed this time, therefore, parents and students should make swift moves to ensure that they don't run out of time in regard to admissions and other activities.