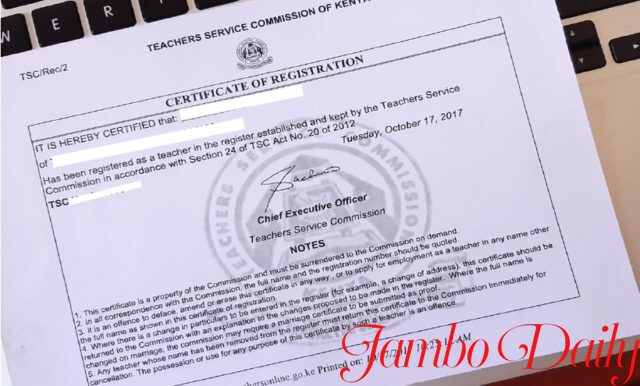 How to Replace Lost TSC Certificate
Here is how to replace lost TSC certificate which normally seems like a headache to teachers who have lost or misplaced the document.
Replacing lost TSC certificates is now much easier. Simply follow the steps outlined in this article. TSC issues a certificate that includes your full legal name, the date you registered for service, and your unique TSC Number.
The document is legally binding and demonstrates that the teacher is a genuine member of the commission and thus authorized to provide teaching services in any part of the country.
TSC Certificate is very important because it is one of the requirements that serves as proof that you have a TSC number during interviews. The document is also required for promotions to higher-level positions.
Read Functions of the Teachers Service Commission (TSC) Kenya
The certificate, like any other document, can be misplaced or lost. This necessitates the acquisition of another.
Sometimes the names on the certificate are different, and you'd like them to match the ones on your identity documents, such as your government-issued national identity card.
Marriage may be one of the most common motivators for someone to change their name on the certificate in order to adopt their husband's maiden name.
Who is allowed to replace a TSC certificate?
The TSC allows one o replace their certificate in any of the following circumstances:
If you have misplaced or lost your certificate.
In the event that your certificate is damaged.
When your certificate has been utterly destroyed.
Where a person wishes to change their name on their current certificate.
TSC Certificate Replacement Requirements
Duplicate certificates cost Kshs. 2055 (non-refundable).
Bank slip issued upon payment of replacement fee
Photocopy of official Identity Card/Passport
Affidavit or marriage certificate(for name changes)
Read How To Apply For A TSC Number in Kenya
Please keep in mind that only scanned copies of original documents are required and must be submitted online via the link provided in this article. Payment should be made to the TSC Registration Account, which is National Bank of Kenya Direct Banking A/C No. 01001005707400.
Procedure to Replace Lost TSC Certificate
Prepare your payment bank slip and any other relevant documents as scanned PDF copies.
Go to the TSC official website by clicking on the link https://teachersonline.tsc.go.ke/
You will be directed to a page where you can begin the process.
As prompted, enter your government-issued ID/passport number and surname.
To complete the remaining fields on the page, click NEXT.
Continue by clicking NEXT and uploading your bank slip, along with any other supporting documents, before waiting for further communication.
You will receive directions from the TSC support team on how you will be issued a new TSC certificate.
Conclusion: Replacing a lost TSC certificate
There you have it. If you follow this procedure correctly, you should receive your new TSC certificate within a few days of application.