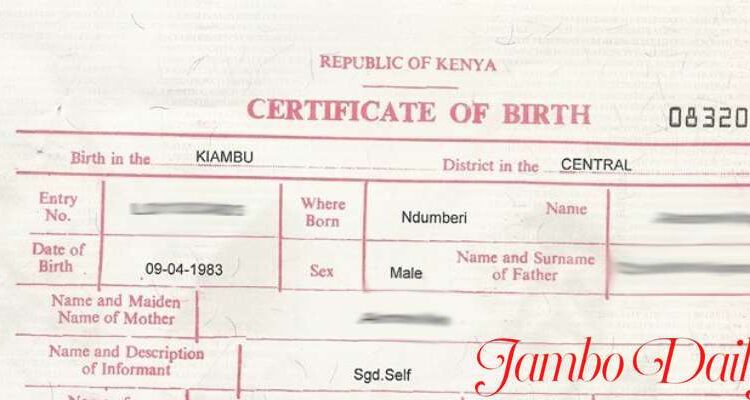 How To Replace A Lost Birth Certificate In Kenya
This is a step-by-step guide to replacing a misplaced birth certificate in Kenya. A birth certificate is a vital document that validates your legal rights to all services that Kenyan citizens are entitled to.
It is used for a variety of purposes, including obtaining a National ID, applying for visas or passports, and registering for national examinations such as the KCPE and KCSE.
How To Replace A Lost Birth Certificate
There are two main methods for replacing lost birth certificates. This includes both physical and online applications.
1. Physical Application
Documents Required
A copy of the birth certificate or notification of birth. If you do not have the copies, you can seek assistance from your county's civil registry office.
Both parents' original ID/passport/birth certificate.
Copies of parents' ID or passports. If one of your parents is deceased, you must present the death certificate.
Read How to Replace Lost TSC Certificate
Procedure for physical replacement
Present a copy of the birth notification to the nearest Huduma Centre or department for civil registration.
Those born in Nairobi County can go to the Registration of Births and Deaths office, which is located at Bishop's Plaza, opposite Milimani Court or the Huduma Centre.
Visit Hass Plaza, 4th Floor, Lower Hill Road, if you were born outside of Nairobi.
Fill out the application form (Form B1) and submit it to the registration office along with the above-mentioned documents.
Pay the required fee. The fee ranges from Kshs 50 to Kshs 180.
When the birth certificate is ready for collection, you will be notified.
Read How to Replace a Lost Passport in Kenya.
2. Online Application
Procedure for online replacement
Enter the ecitizen portal.
Navigate to the civil registration department and select Get Service. Make an application and then choose 'birth certificate'.
Follow the directions provided.
Proceed to pay the required fee or payment. The fee is approximately Kshs 180 and can be paid via Mpesa.
Confirm your payment before submitting your application.
Download the application invoice, then submit a copy to the Civil Registration
Department, which is located at ACK Bishop House, Bishop's Road, off Ngong Road.