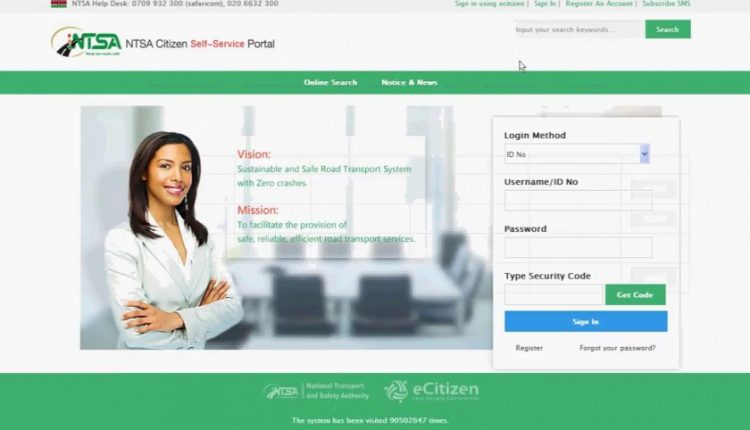 How to Open TIMS Account Online
If you wish to open a TIMS account online, you may do so via the NTSA website. The procedure is straightforward and takes only a couple of minutes to complete.
The NTSA TIMS account is an online self-service portal that allows Kenyans to apply for and pay for vehicle registration, license renewals, or other National Transport and Safety Authority (NTSA) services.
How to Create a TIMS Account online
You will need the following documents to open a TIMS account online:
A national identification card or passport
A working email address.
Your cellphone number.
You can also register for a TIMS account using your eCitizen account.
Steps to open TIMS account online:
To access the registration portal, go to the TIMS website and click on "Register" under the login section.
To begin, sign up for the NTSA 22847 SMS service, which can be found in the top right corner of the page.
Select the category in which you want to open your account. If you want to create an account as an individual, you must enter your ID serial number in the first field.
Otherwise, you must provide a KRA PIN for any other account, such as one with a financial institute, company, or driving school.
After entering your ID serial number or KRA PIN, click the verify button to proceed to the information section. In the next step for an individual account, some of your data will be automatically filled in.
Then enter your mother's maiden name, KRA PIN, occupation, and mobile phone number.
When you press the "Send authorization code" button, the code will be sent to your phone. Enter the code and confirm. More options will be displayed, and then click 'Next' to complete your TIMS account registration.
The NTSA TIMS SMS system will then send you a passcode to use to access your account.
Read How To Apply For a Smart Driving License in Kenya
How to login into the NTSA TIMS account
There are two ways to log in to the NTSA TIMS service.
If you have one or two, you can log in to your account on the TIMS homepage using your e-Citizen account.
Now that you've completed the account creation process, you'll need to return to the home page to access the TIMS account login page.
Make sure you have your phone with you at all times because you will need it to log in to your account.
The steps below will walk you through logging into your account for the first time.
In the login section, choose whether you'll use your username, national ID, or alien ID.
Enter the password you received via SMS from the NTSA TIMS service.
Click "Get Code," enter the security code you'll receive, and then click "Sign In" to access your account.
Then, in the upper-right corner of your screen, click on your name to change your password.
A new page will appear where you can enter your password.
Services Offered on the NTSA Portal.
View all of your vehicles.
Fill out an application for vehicle registration.
Apply for the transfer of ownership of your vehicle to another party.
Confirm the transfer of ownership.
Register your vehicle for any physical or functional changes.
Accept ownership of vehicles that have been transferred to you.
Submit an application for duplicate logbooks—a reflective number plate.
Vehicle examination.
Apply for a Smart Driving permit.
Read also
How To Replace A Lost Or Defaced License Plate In Kenya
How to apply for New Digital Number plates in Kenya
How to Replace a Lost Logbook in Kenya