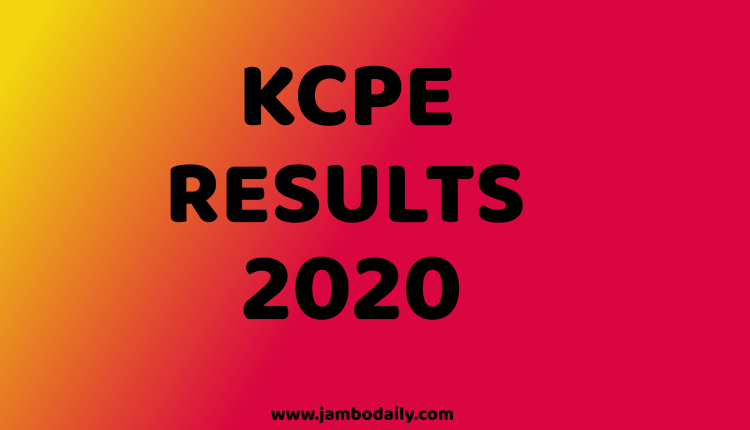 How To Check KCPE 2020 Results From Your Mobile Phone
The cabinet secretary, Ministry of education professor George Magoha has today released the 2020 KCPE results at Mitihani House, Nairobi, 21 days after the conclusion of the exam. A total of 1,179,192 candidates in 28,460 schools sat for the KCPE in which 199, 639 professionals were contracted for the exercise.
The marking of multiple choice papers was concluded in early April, 2021 and the examiners have been working on English composition and Kiswahili insha.
According to the Kenya National Examinations Council (KNEC) website, to check the results one should send an SMS with the candidates index number followed by KCPE, in capital letters, to the SMS number 20076
Faith Mumo, a pupil from Kari Mwailu Primary School in Makueni County has emerged the top student in the examination with 433 marks. Nanzala Wesonga from Chogoria Girls Primary School took the second best position with 432 marks.
Angel Murithi came in as the third best student after scoring 431 marks. She however tied with Samuel Wanyonyi. All the top four students were from public schools while a total of 9 students attained above 400 marks.
Girls performed slightly better in languages while boys performed better in Mathematics and science. Cs Magoha said overall performance in 2020 exams had improved as compared to 2019. However, the mark of the highest candidate dropped from 440 to 433.
According to the results, Public schools seem to be performing better than private schools. This is contrary to the earlier notion that purported private schools are better than public schools.
Nowadays, some public schools even have better facilities than private ones and provide boarding facilities for those who can afford them. This has provided a fair environment for competition between the two categories.
In recent years, pupils from private schools had dominated the top positions in KCPE exams and would be selected to join the best secondary schools. This left those from public schools at a disadvantage.
However, things have changed and now a top student can come from any school. Similarly, there is equality in selection to join secondary schools where each pupil is allocated one school of their choice. This has helped to reduce cases of corruption and impunity in the sector.