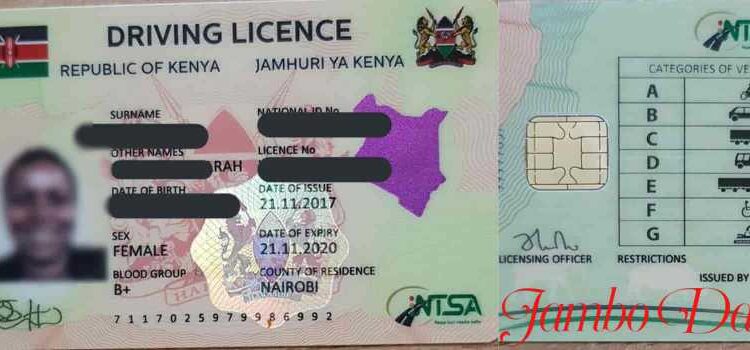 How To Apply For a Smart Driving License in Kenya
This article will walk you through the process of applying for a smart driving license in Kenya. It is now a requirement in Kenya to have an electronic driving license instead of the outdated red book-style license.
The issuance of manual driving licenses was abolished in July 2020, with all drivers required to obtain a smart driving license by January 2021.  Following that, immediate fines were put in place.
The smart driving license has a safe computer chip that stores the blood type, biometrics, national ID number, and KRA PIN of the driver. The smart license also keeps track of traffic violations.
The smart driving license costs Ksh 3,050.
How To Apply For a Smart Driving License in Kenya
1. Register a TIMS account
Create an account on the NTSA TIMS platform; if you already have one, just log in.
Click register if this is your first visit to the NTSA TIMS portal.
then select Individuals from the menu.
Submit the ID serial number. Don't enter your ID number.
You must use the serial number on your old ID card if you have changed your ID within the last two years. (If the system rejects any of your information, it is advisable that you go to an NTSA office.)
Enter the maiden name of your mother.
Type in your KRA PIN number.
Verify your information.
Read Top Ten Driving Schools in Kenya, Charges and Contacts.
2. Go back to the TIMS homepage and sign in.
After logging in, you will see a list of options; choose "Driving License."
You may find all the information about your current driver's license on this website.
Choose the "Apply for smart DL" option from the menu on the page's left-hand side.
3. Verify your information
Your existing driving license information is located on the "Apply for smart DL" page. Click next after making sure that all the information, particularly on the car class, is accurate.
4. Pay for the Service
You'll be prompted to pay Ksh3050 on the following page, and you'll be taken to a payment page with a variety of payment methods, including Mpesa, Airtel Money, Debit/Credit/Prepaid card, EazzyPay, and MobiKash.
Read How to apply for New Digital Number plates in Kenya
5. Schedule a meeting with the NTSA
Once the payment has been made successfully, you will need to schedule an appointment with NTSA.
The NTSA will take your photo, fingerprints, and any other necessary information at the appointment.
Wait for your smart driver's license to be available for pickup in at least five working days.
You can contact NTSA via the following details
Phone : 0709 932 300 (safaricom), 020 6632 300 (Telkom)
Email : info@ntsa.go.ke