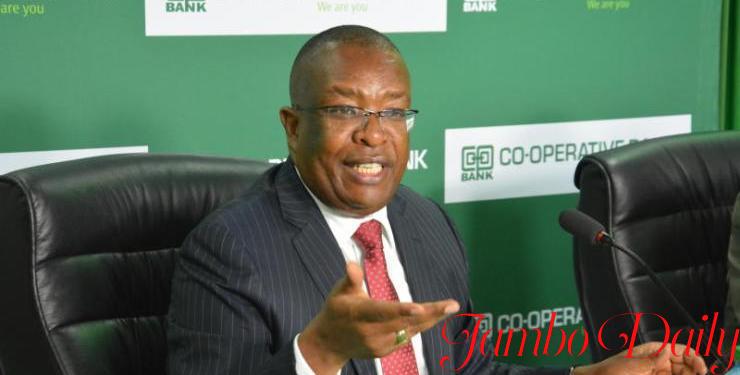 Gideon Muriuki Bio, Age, Career, Education, Family, Wife, Net Worth.
Gideon Muriuki Biography: Gideon Maina Muriuki, MBS, is the current Group Managing Director, CEO, Excecutive Director and member of the Board of Management of the Co-operative Bank of Kenya Limited. He was recently named the best Bank CEO in Africa in a research conducted in 2021.
Gideon Muriuki Age and Place Of Birth.
Gideon Muriuki prefers keeping his personal life private, as such his exact date of birth is not known to the public. He was however born in central Kenya region.
Read James Mwangi Bio, Age, Career, Education, Family, Wife, Net Worth.
Read List of Commercial Banks Operating In Kenya 2021.
Read How To Check Your CRB Status Online In Kenya.
Gideon Muriuki Tribe.
Gideon Maina Muriuki hails from central region of Kenya that is inhabited by the Kikuyus who make up 22% of Kenya's total population.
Gideon Muriuki Family.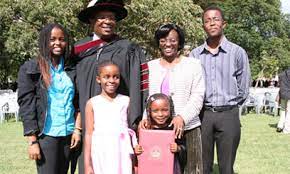 Gideon Muriuki's photo of what is believed to be his family is available on social media. He is seen posing with his wife and four children believed to be his elder son, and three daughters. He is happily married.
Gideon Muriuki Educational Background.
After completing his secondary education, Muriuki proceeded to University for his tertiary education. He hold a bachelors degree in Mathematics. In 2011, he was awarded a honorary Doctorate degree in Business Management, and is a member of the Kenya Institute of Bankers.
Gideon Muriuki Career.
Gideon joined CO-operative Bank in 1996 where he assumed the roles of the Senior Corporate Manager. He worked as a Senior Corporate Mnager for three years before he was promoted to the position of Director, Corporate and Institutional Banking in 1999. Muriuki was appointed the Managing Director of Co-operative Bank in 2001 after exhibiting exemplary performance in his previous positions.
In his Banking career, Muriuki has employed greatly the art of networking with other banks and corporates, which has helped him rise through the ranks while improving the status of his Bank.
With over 32 years experience and expertise in the corporate sector, he is the Vice-President of Africa International Cooperative Banking Alliance (ICBA). He is also the former chairman of African Rural and Agricultural Credit Association (AFRACA), and former chairman of the African International University Council. He has worked  with several other Banks and financial institutions both as an expert and a consultant.
Under Gideon's stewardship, Co-op Bank is currently ranked as the third largest Bank in Kenya, with an asset base value of more than $5.3 Billion. Co-op Bank comes after Equity Bank of Kenya (Approx $10 Billion) and Kenya Commercial Bank (Approx $9 Billion) respectively.
Read List of Top 10 Richest Politicians in Kenya and Their Net Worth
Gideon Muriuki Awards and Recognitions.
In 2005, He was Awarded with Order of the Grand Warrior (OGW) and in 2011 he received the award of the Moran of the Burning Spear (MBS). In 2017, he was awarded a first class Chief of Order of the Burning Spear for his exemplary service in the banking sector.
Read Co-op Bank Ceo named best Bank CEO in Africa.
In 2014, Muriuki was voted as CEO of the year by International Banker. In 2016, he received the Lion of Judah Award by Evangelical Alliance of Kenya, and Mtumishi Bora Award by Kenya Christian Proffessionals Forum. He was Awarded as the Best Bank CEO of Kenya by International Finace in 2018, and the Best Bank CEO in Africa in 2021 by African Banking Awards organized by EMEA Finance Magazine.
Gideon Muriuki Salary and Net Worth.
Gideon Muriuki earns an annual salary of Ksh 376.4 Million including allowances and bonuses. His Net Worth is not yet revealed to the public but it is in the tune of billions, he is simply a billionnaire.