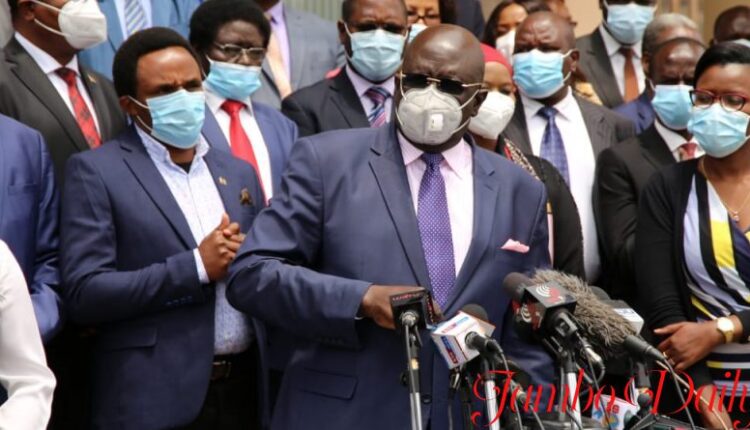 Form One Reporting Dates Revealed, See Details.
Form One Reporting Dates Revealed- Cabinet Secretary Ministry of Education professor George Magoha has announced that candidates who sat for the KCPE exam in 2022 will join form one on May 3, 2022. He said this on Monday, April 11, while officially unveiling Form One placements.
About 1,225,507 Kenya Certificate of Primary Education (KCPE) 2021 candidates will report to various secondary schools across the country. This will depend on whether there will be a 100% transition from primary to secondary schools.
The form one reporting dates announcement comes just two weeks after the release of KCPE results on 28 March.
Magoha stated that parents can find out which school their children have been assigned to by texting their index numbers to 22263.
Schools can also access a complete list of their Form One candidates by logging into the National Education Management Information System Nemis portal.
The CS also voiced alarm that several KCPE candidates were having difficulty selecting schools, citing a lack of proper guidance on the subject. He compelled parents and teachers to intervene and help them through the process.
In the aftermath of the exam, "38,797 KCPE candidates have been placed in national schools, 214,960 in extra-county schools, 258,456 in county schools, 726,311 in Sub-county schools, and 2,045 in special schools," Magoha said.
In the exams, 11,857 candidates received scores of 400 or higher, while 315,275 received scores ranging from 300 to 399.
A total of 578,197 candidates attained between 200 and 299 points.
Magata Bruce Mackenzie of Nakuru's Gilgil Hills Academy emerged as the top candidate in the exam with 428 points and will enroll at Alliance Boys High School.
The government has been at the forefront in encouraging 100% transition of pupils to secondary schools. However, some have been faced with challenges such as lack of school fees which has hindered them from joining their dream high schools.
Others refuse to join due to various reasons including drug and substance abuse. This has moreso been witnessed in the coastal region where class 8 leavers rock the streets to carry out menial jobs or work on the beach,  while others result in criminal activities.
Magoha has expressed hopes that all students will join form one, bearing in mind there was 100% placement and no candidate missed the placement. He however advised parents whose children scored 400 marks and above and were not placed in national schools to bear with the situation.