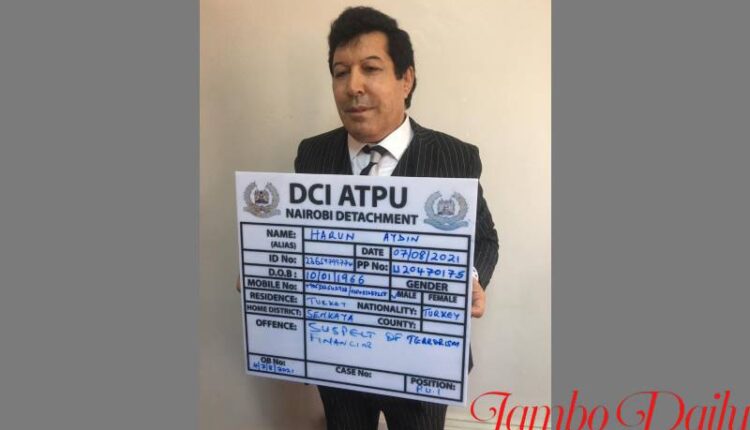 Why Ruto-Allied Turkish Businessman Was Deported To His Country.
Turkish Businessman and Ruto ally Harun Aydin has been reportedly deported to his country. This comes days after he, along with the deputy president William Ruto and some Tanga Tanga MPs were barred from traveling to Uganda on Monday, August 2 over security concerns.
According to Kapseret MP Oscar Sudi, the businessman boarded a Turkish Airlines plane during the morning hours of Monday, August 9, and was expected to land in Turkey within a few hours.
Aydin was arrested and detained last week over claims of financing criminal activity, police have since been probing on the matter.
The suspect was set to be arraigned at Kahawa Law Courts on Monday where he was expected to answer charges related to terrorism and illegal presence in the country.
Senior Lawyer Ahmed Nassir who was one of his lawyers present at Kahawa law courts rubbished claims that Aydin was a criminal activities financer, saying that the entire undertaking was politically instigated.
Some of his closest allies have pledged that they will do anything possible within their means to bring Aydin back into the country.
The Deputy President has also defended Aydin, saying that Aydin was an approved investor with valid papers to operate business in the country.
Taking to his Twitter wall, the DP said that blocking Aydin was a result of top-down arrogance bred by patronage and cartels that criminalize enterprise. He termed the entire incident as a Tragedy of Political Pettiness.
The second in command also apologized later to the business man and reported the same on his Twitter account, terming the arrest as a political malfunctioning.
Several leaders, concerned parties, and politicians have come out to speak on the incident. Some think it is unconstitutional to block Aydin from conducting his businesses while others think he is indeed linked to terrorism and should not be allowed to remain in the country.
It is believed that the main reason why Harun was deported is his alleged linkage with terrorism where he is believed to be a financer of terror activities.
Apart from his mission in Kenya, Aydin has been linked to other terror activities in the past, some involving use of explosives. One of the most significant one being one in Germany in 2004.
According to The New York Times, Mr. Aydin was arrested alongside his colleague on October 17 2004 at Frankfurt airport over alleged criminal activity.
The two suspects were cornered as they were about to board a plane to Tehran and upon checkup, they were found in possession of camouflage clothing, a chemical weapons protection suit, a ski-mask and explosive-linked materials.
Mr. Aydin who was a student aged 29 at the time, was described as a leading member of a militant group based in cologne and was detained on orders from Frankfurt court.
Harun was suspected of issuing orders for serious crimes such as murder and manslaughter but seemingly no evidence was found and perhaps that's why he was freed.
It is his past criminal record along with other irregularities within his alleged business trips that led to the termination of his trip to Uganda and untimely deportation to his country.
Read: Fred Matiang'i Biography, Age, Career, Education, Family, Wife, Networth
His criminal records and unclear business deals provide enough argument for the state security personnels to feel his presence in the country as a threat to national security. That explains exactly why he was deported.