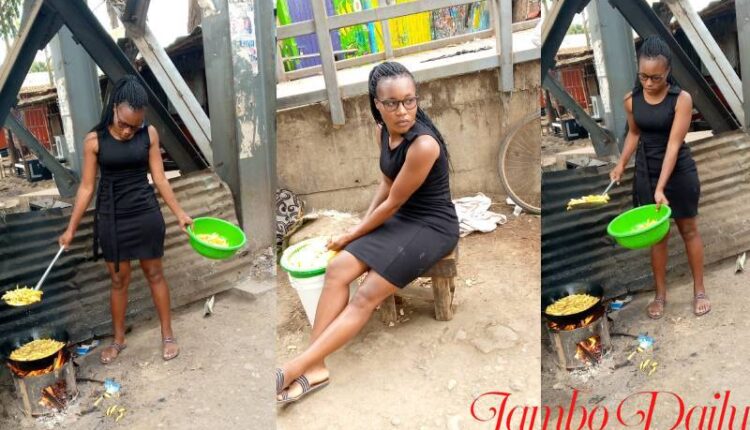 Viral Chips Vendor Bevalyne Kwamboka Closes Shop Over High Prices of Commodities.
Controversial chips vendor Bevalyne Kwamboka who sells chips at a makeshift shop at Kware footbridge in embakasi south has called it quits in his business. The young lady who doubles up as a student at Kenyatta University closed her business citing the high cost of commodities such as potatoes and cooking oil.
In a post she shared on her Facebook page, Kwamboka says she will focus on other businesses. "To all chips mwitu customers, we have officially ceased selling chips due to an increase in potato and cooking oil prices until further notice. The potato price was ksh 1200, now 3200, the oil price was ksh 1200, now 2350- for a 10 liter can. Profits are almost zero, let's focus on other businesses including avocado and matoke as well as part-time coaching of pupils" Kwamboka said.
Kwamboka went viral months ago when she was notified to vacate from her makeshift structure by the Kenya National Highways Authority (KENHA) in a notice released by the authority to all hawkers and such businesses.
However, Kenyans took to social media to defend her, citing that the business was her only source of income. S he ended up trending countrywide, which saw her receive support from several well-wishers.
It also became known that she is a student at Kenyatta University pursuing a bachelor of education and that she derived her school fees from her small business. She later graduated from the same institution in December 2021 and took to social media to share her joy.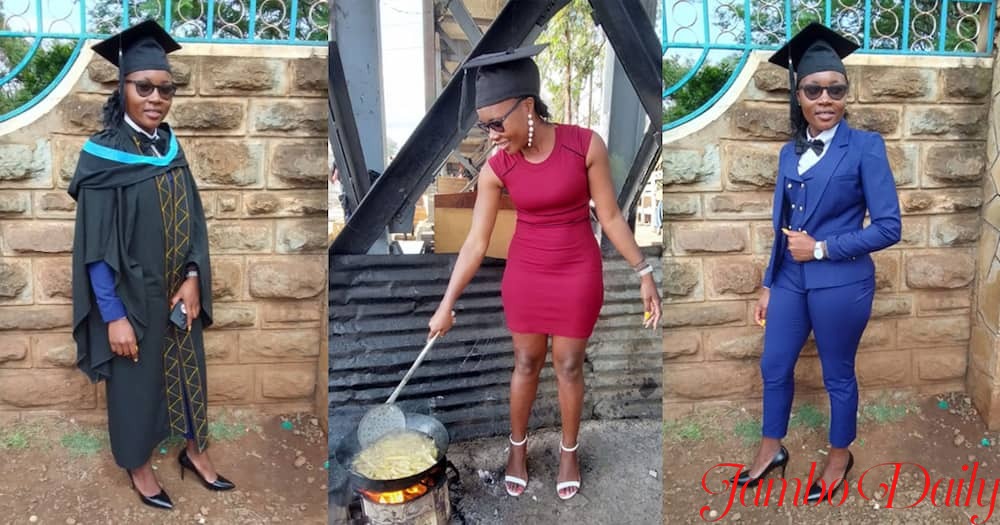 Kenyans have recently complained about the high cost of living, which has affected the price of essential goods such as sifting maize flour, bread, vegetables, and fruits.
Read Cooking Gas Prices to Soar as Kenyans Wail of Inflation.
According to the Kenya National Bureau of Statistics (KNBS) monthly Consumer Price Index, food inflation increased by 8.89 percent in January 2022, despite a drop in total inflation.
According to the KNBS, the CPI climbed by 0.31 percent from December 2021 to January 2022, rising from 118.274 to 118.642. Between December 2021 and January 2022, the Food and Non-Alcoholic Beverages Index grew by 1.07 percent.
Despite lower inflation rates in Kenya, the IMF's 2022 World Economic Outlook predicts difficult times for developing and emerging economies.
The lender has warned that the sharp increase in petrol and gas costs will drive inflation to levels last seen during the global financial crisis in 2008.