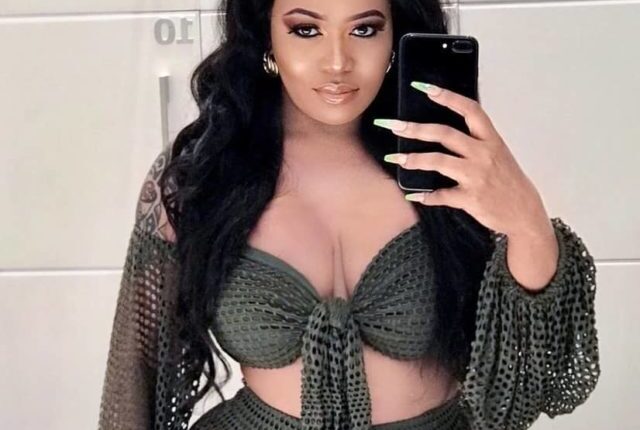 Vera Sidika Biography, Age, Education, Career, Boyfriends and Net Worth
Vera Sidika Mung'asia is a big-booted businesswoman, socialite, celebrity, and video vixen from Kenya. She primarily gained a sizable social media following by sharing risqué pictures of herself in pricey locations. The always-controversial, curvaceous woman gained notoriety after appearing in the 2012 song You Guy by P Unit as a video vixen.
Vera Sidika Real Name
The curvaceous lass quickly came forward to clarify that her name is not Veronika Shikuku Shikwekwe after bloggers and other influencers quickly fled with rumors about it. This was after people on social media kept calling her Shikwekwe or just Shikweks. She then clarified the situation by informing her followers that she actually goes by Vera Sidika on social media.
Vera Sidika Age, Birthday, Place of Birth, Family, Tribe, Nationality
Vera was born in Mombasa, Kenya, on September 30, 1989. She is the only girl and the firstborn child of three, so she has two younger brothers. The thick lass lived in Mombasa for a significant portion of her life, which accounts for her enviable fluency in Swahili. The socialite can also cook really well, as evidenced by her cooking videos, particularly the pilau recipe she recently posted on her YouTube channel.
Vera Sidika Education Background
The young lady allegedly attended Nairobi's Kenyatta University to pursue a degree in interior design. She did not, however, finish her education because of her fame and wealth. She recently announced that she was making preparations to return to school and earn that degree.
Vera Sidika Socialite
The well-endowed, high-maintenance girl shot to fame in 2012 when she was given the chance to star in P Unit's song You Guy as a video vixen. She displayed all the juice her mother gave her while acting sexy in the video.
She then took the fame to her social media accounts, including Facebook, Instagram, and Twitter, where she developed a habit of sharing obscene pictures of herself in posh resorts, on the beach, and in urban settings. She would share twerking videos and naked pictures, which led to an increase in the number of men and women who followed her to stay up to date.
She also takes high-quality photos, which undoubtedly attracted more followers. The strange thing is that she never revealed who her boyfriend was and left people in the dark about whether or not her bed was being warmed.
As a result, some of her supporters began to suspect that the woman was engaging in high-class sex trafficking. She refuted the allegations and claimed to be a classy, independent woman when questioned.
She is now able to work as an emcee and event host at paid events thanks to her celebrity status and social media presence. Additionally, she has been able to participate in club appearances where she receives payment simply for attending a party or event.
The crowd would then go crazy trying to see her or, worse, trying to take a selfie or a photo with her because everyone else would be vying for that.
Read Betty Kyalo Bio, Age, Career, Education, Family, Husband, and Net Worth
Vera Sidika Nairobi Diaries
Shikwekwe rose to fame on television after joining the cast of Nairobi Diaries, a purported Kenyan reality show. She used to interact with other cast members like Pendo in the show, which resulted in a shorter stay for her. The ever-twerking lass was dating musician Otile Brown at the time, but their relationship ended long ago.
Vera Sidika Skin Bleaching
If you are familiar with Vera Sidika, you are aware that she lightened her skin before her fame really took off. The good news is that she does not deny having her skin lightened, in contrast to many celebrities and public figures. However, how can you possibly lie to people when they have access to screenshots and videos from your past that expose your true nature? You don't have a chance.
Anyway, she claims that she spent a whopping ksh.15 million on her skin-lightening procedure in the United Kingdom. The young woman claimed that her body and image are her business and money-making machinery when questioned about why she spent such a significant amount of money on something as superficial as beauty.
Vera Sidika Otile Brown
If you are a frequent visitor to the streets of Social Media and have never heard the phrase Kaotile, you are missing out. They even collaborated on a music video in which Vera played the video vixen and Otile sang. Bad Man Shivo and Vera broke up after dating for several months in 2018, warming each other's beds in what they portrayed as the perfect relationship. I use the word "finally" because many people had been waiting for it for a long time.
Read Millicent Omanga Biography, Career, Age, Husband, Family, Education and Net Worth
They ended their relationship in a childish way by exposing each other's screenshots, with Vera calling Otile broke after he refused to lend him kshs. 500,000. Furthermore, a sour Vera aired Kaotile's dirty laundry in public, claiming that the young man has very small manhood that cannot satisfy her like the large ones she was used to, especially after dating Nigerian men. This gave rise to the name kaotile, which means "tiny manhood." Otile moved on to her Ethiopian bae, Nabayet (Nabbi), and even released a song in her honor.
Vera Sidika Dating Jimmy Chansa
Vera moved on and found new love after a bitter and messy breakup with Otile. Jimmy Chansa, a handsome Tanzanian doctor by profession, was the new bae. When asked, Vera stated that her new man's manhood is large enough to satisfy her, so she is pleased because she will no longer need to use sex toys because her new man does a good job. However, it appears that the two split up sooner than expected, as Vera no longer posts or talks about him.
Vera Sidika Song
Vera appears to be a singer. She revealed her newfound talent by posting two of her music videos on her YouTube channel. Nalia and Mimi are the songs.
Jegede, a Kenyan musician who has long had a crush on Vera, recently released a song devoted entirely to the one and only Shikweks. Vera Sidika was the title of the video. Jegede has repeatedly asked Vera for her hand in marriage, which she has refused.
Vera Sidika Business
Vera is the owner of Vera Sidika Beauty Parlor (VSBP) in Westlands, Nairobi, Kenya. She also runs a slimming tea company called Veetox Herbal Detox.
Cars and the Vera Sidika House
The curvy beauty lives in an expensive mansion in Nairobi's affluent estate of Kitsuru. She also owns property in Kenya's coastal region. The young lady drives a million-dollar Range Rover.
Vera Sidika's net worth.
The socialite is estimated to be worth kshs. 3.5 million in 2020. She has put a lot of money into her businesses, such as her beauty salon and slimming tea. Furthermore, she is a brand on her own, which means she is paid to mention, tag, or talk about products, as well as to appear in clubs and events. She is currently Kenya's wealthiest socialite.