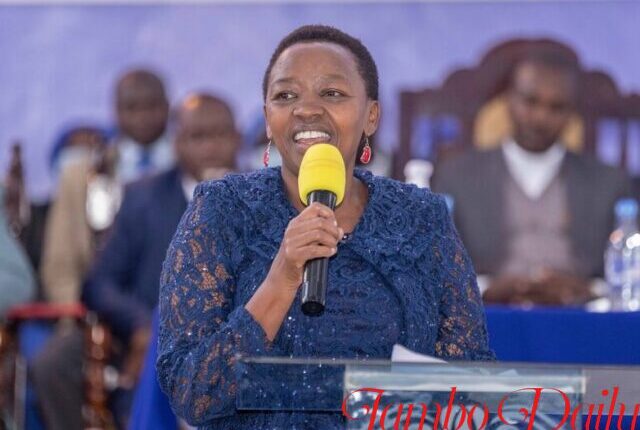 Rachael Ruto Biography, Age, Education, Career and Net Worth
Rachael Ruto is a teacher who is currently the first lady of the Republic of Kenya. She is the wife of Kenya's newly sworn-in President and former Deputy President William Ruto. She was supportive of her husband's campaign, accompanying him on several occasions.
Age and Birth Place
Rachael was born on November 20, 1968, in Kakamega County, Kenya's Western region. While little is known about her family, her brother's name is Samuel Cyrus Shikuku (Sammy Triples).
Read William Ruto Biography, Age, Education, Controversies, Wife and Net Worth
Rachael Education
Rachel attended Likuyani Primary School in Kakamega County for her primary education before transferring to Butere Girls High School for her secondary education. She then attended Kenyatta University to study for a Bachelor of Education. Rachel enrolled in the Master of Arts program at the Catholic University of Eastern Africa in 2011.
Rachael Ruto Career
Rachel studied education but was unable to find work as a teacher for a long time because she decided to quit and pursue a career in the tour industry. She drove people all over the country.
Rachael Recognition
Rachel became an advocate for women's rights and empowerment as the Republic of Kenya's second lady. On January 14th, 2017, she received the International Honorary Fellowship Award for Women's Empowerment from Binary University in Malaysia.
Rachael Ruto Marriage
Marriage Ruto and Rachel married in 1991. They first met in Dagoretti, where they had their first child. The couple has six children now. Ruto acknowledged having a daughter with a former lover named Pisca Bett in 2017.
Ruto also has an adopted daughter named Baby Nadia whom he renamed Nadia Cherono after his mother. The kid was buried alive after birth but good samaritans saved her and Ruto decided to adopt her.
Cherono was abandoned after birth and had been in the care of Sisters at Madre Ippolata Children's Home. Cherono's story touched Ruto's heart and he decided to adopt her, making her part of his family.
Rachael Ruto Net Worth
Rachel Ruto's net worth is unknown at this time. She derives the majority of her wealth from her position in the country as well as the many family businesses in the country.