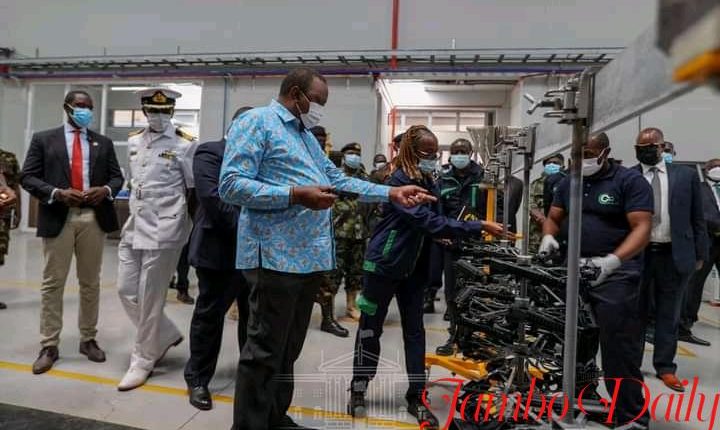 President Uhuru Officially Commissions New Firearms Factory in Ruiru
In a bid to affirm National Security, President Uhuru Kenyatta on Thursday, April 8 launched a new small Firearms Factory located in Ruiru, Kiambu county.
Speaking to the press after the occasion, the President said that through the local production of weaponry, Kenya seeks to enhance self-reliance, domestic innovation, and strengthening of local manufacturing capabilities.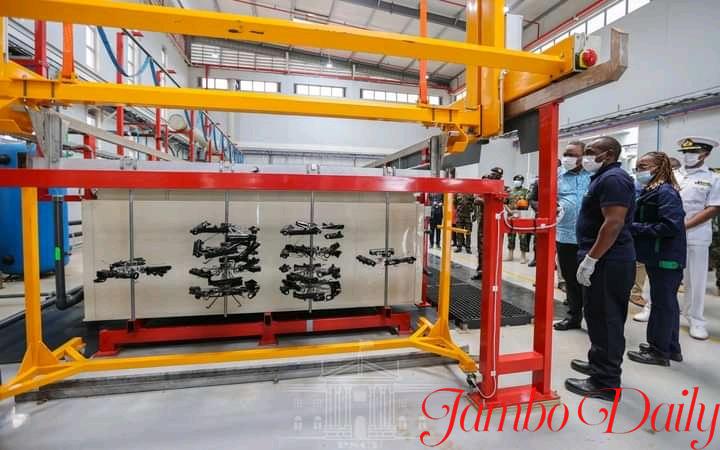 Further, he pointed out that Kenya is seeking to offer decent jobs for her youth through such initiatives. The launch of the factory is in line with the President's Agenda 4 plan that he aims to accomplish before his tenure ends in 2022.
Read Also: Fred Matiang'i Biography, Age, Career, Education, Family, Wife, Networth
The project, which saw the government dish out Kshs 4 billion features a yearly single-shift manufacturing capacity of 12,000 assault rifles. A few components will be imported from outside the country with a 60% set to be produced locally.
The commissioning of the Factory is arguably a big stride towards Kenya's economic development considering that Kenya is used to importing weapons from developed countries like China, Israel, and The United States.
However, Kenyans have shown concern over the integrity of the factory management and handling of the weapons. Some have expressed fear of a scenario whereby corruption wrecks the factory and officers start selling weapons to civilians.
Read: George Kinoti DCI Biography, Age, Career, Education, Family, Wife, Net Worth
In the recent past, cases have been there whereby several police officers have been linked to criminal activities by leasing out weapons to gangsters. The gangsters pay a certain amount to police officers and use the weapons to terrorize innocent Kenyans at night.
It has been noted that acquiring a gun, hand-cuffs, and police attire in Kenya is as simple as Abc as long as you have a heavy pocket and the right code of words.
Netizens are however hopeful that the move is going to be a positive one and will see the country make a step forward in terms of National security and economic development.
Read: Come make legal money at Ruiru gun factory, Uhuru fires at illicit arm producers.