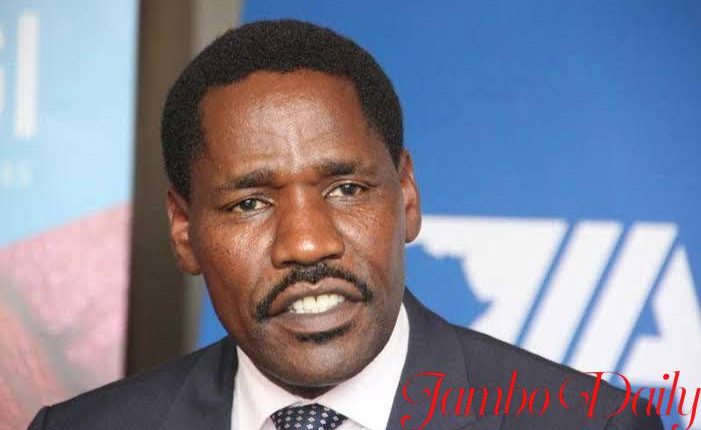 Peter Munya Biography, Age, Career, Education, Family, Wife, Net Worth
Peter Gatirau Munya is the cabinet secretary of, Ministry of Agriculture in Kenya. He was appointed into office on 14 January 2020 by president Uhuru Kenyatta when he reshuffled his cabinet.
Before then, he had served as the minister of trade and industrialization as well as a minister of East African Community and northern corridor development.
Munya was the first governor of Meru County and the second chairman of the council of governors (COG). From 2002 to 2013, Munya was serving as a member of parliament for the Tigania East constituency. He is the party leader of PNU, which he used to vie for the gubernatorial seat in the 2017 general elections.
Peter Munya Birthday and Early Life.
Munya was born in 1969 at Muthaara, Tigania east constituency of Meru County. He is the son of Jackson Munya M'Rukunga and Grace Mwakithi. He was raised in his rural home until he gained enough knowledge to storm out and find his way.
Early Education.
He completed his primary school education at the local primary school and proceeded to chogoria boys where he sat for his O level examinations and passed with good grades. He then joined Meru School for his A levels. At Meru school, he was the chairman of the debating club and a winner of the provincial public speaking competition.
Read Kiraitu Murungi Biography, Age, Family, Wealth, Political Career
Peter Munya Law Career.
After completing his A-level studies, he joined the University of Nairobi for a bachelor's degree in law (LLB)from where he graduated in 1993. At the University of Nairobi, he was elected twice as the chairman of the Kenya Law Students Society. (KLSS). After graduation, he took up an internship at Kamau, Kuria, and Kiraitu advocates in Nairobi.
In 1995, he received a scholarship from Belgian Embassy to study for a master's degree in law at the University of Brussels in Belgium. He undertook and attained a master's degree in international law (International economic integration law). Munya furthered his studies at the University of Georgia where he enrolled and attained a second master's degree in law (public and international law).
Peter Munya Work and Experience.
Upon his return to Kenya, he took up a job as a law lecturer at the Kenya school of monetary studies and the Kenya school of professional studies.
He was appointed as a lecturer of law at Moi university Eldoret in 2000 where he taught in the departments of public and private law. In 2002, he left Moi university to set up Kimaiyo and Munya Advocates.
In his law career, Munya has dealt with several high-profile cases under his law firm along with his colleagues. He has worked with cases in both national and international Law.
Academic and Professional Recognition.
Munya was published in the Boston University international law journal under the title "The role of the Organization of African Unity in Conflict Resolution and Dispute settlement in Africa" in 1977.
In 2002, He was Published in the Moi university journal under the title "The role of the international court of justice in resolving African disputes: past, present and future prospects".
Marriage and Family.
Munya is married to one phoebe Munya and together they have two children; Karauni and Nkio.
Read How Fearless Meru Miraa Drivers Rule Kenyan Highways at Night!(Video)
Peter Munya Wealth and Assets.
Cs Munya's wealth, net worth, and assets will be updated as soon as reliable information is sourced.
Peter Munya Political Career.
Cs Munya began his political career in 2002 when he campaigned for and won the parliamentary seat for the Tigania East constituency in the then Meru North District. He was subsequently sworn into the 9th parliament of Kenya on January 9, 2003.
While in the 9th parliament, Munya was a very active parliamentarian. As a young Mp, he founded and chaired the Kenya Young Parliamentarians Association with the aim of championing the challenges affecting Kenyan youth in parliament. He also became a member of the Health club management committee and the Parliamentary Investigative Committee.
In 2006, he was appointed as the assistant minister of Internal Security and Provincial Administration. While serving in the ministry, he called for stronger laws to curb the proliferation of small arms.
In the 2007 general elections, he was elected for the second time as a member of parliament for the Tigania East Constituency. He was subsequently appointed as assistant minister, East African Community in the then coalition government between President Mwai Kibaki and ODM leader Raila Odinga. While in the ministry, he championed for expansion of roads, improvement of existing harbors, and building of new ports.
Governor of Meru County.
In the 2013 general elections, Munya decided to cast his stake in the Meru county gubernatorial race. He competed against his main rival Kilemi Mwiria, an educationist, and bagged the victory with a small margin. He vied for the seat on an APK ticket, a political party that was then led by Kiraitu Murungi, who is the current governor of Meru.
He was subsequently sworn in as governor on 27 March 2017, assuming the role of the governor of Meru County.
However, all was not done for his victory as the election results were challenged at the Meru High court by his Rivals and later nullified by the court of appeal in Nyeri on 14 March 2014.
Munya did not give up on his quest, he appealed against the Nyeri court's decision at the supreme court of Kenya in Nairobi. The supreme court quashed the earlier ruling, stating that the burden of proof lay on the petitioners, and effectively reinstated Munya as the governor.
While serving as governor of Meru, he initiated several development projects in the county, some of which he achieved while others were left to be achieved by his successor.
In may 2015, he was elected as the chairman of the council of governors through consensus. After serving the position for one term, he was elected for the second term in 2016 where he vowed to fight for and defend devolution.
While serving as the chair, he launched the Devolution Torch, a platform with the sole responsibility of providing an opportunity for Kenyans to share their views on the success of devolution in Kenya.
Read George Kinoti DCI Biography, Age, Career, Education, Family, Wife, Net Worth
Exit from Governors Office and Appointment to the Cabinet.
In the 2017 general elections, Munya was on the ballot seeking a second term as governor of Meru under a PNU ticket. However, he lost to his ally-turned-foe opponent Kiraitu Murungi who garnered 281,737 votes against Munya's 232,569.
Following his defeat in the 2017 poll, Munya headed to court to challenge the election results. He further shifted his political direction from the majority Jubilee party where his party PNU was an affiliate party and joined the National Super Alliance (NASA) led by the presidential election petitioner, Raila Odinga.
He shortly made a U-turn after a meeting between him and president Uhuru Kenyatta and his party leadership and announced exiting NASA to work with the government.
When the president finally announced his new cabinet members, Munya was named as the minister for East Africa Community and Northern Corridor Development. This move was viewed as a ransom to abolish his contest against Kiraitu. He later withdrew his election petition against the governor.
Working in the Ministry of Agriculture.
Munya is currently serving as minister for agriculture in President Uhuru's cabinet and seems to be doing good at it. In February 2020, he successfully implemented a ban on commercial slaughter of donkeys and ordered the immediate closure of all donkey slaughterhouses in Kenya.
In 2020, he launched a heated fight against cartels in the agricultural sector with an aim of ensuring smallholder farmers get the value for what they produce. He introduced agricultural reforms in the sector and has since continued championing it so that farmers can get good pay for their agricultural produce.
As part of success of the initiative, coffee farmers were relieved in the year 2020 as they received good pay for their produce for the first time in many years. Some cooperatives societies had received a payment of up to Ksh 100 per KG of coffee, which was a good achievement for the Cs.
He is now focused on delivering to tea farmers where he is currently agitating for Regulation of Kenya Tea Development Agencies (KTDA) by the government. KTDA is the chief processor and exporter of Tea in the Country. Apart from that, he has also implemented reforms in the livestock, dairy, sugarcane and Maize sectors.
Back to the political scene, there are speculations that Munya might be vying for the top political seat in meru county once again come 2022. However, the Cs has not come out clearly and recent attempts to find the truth have been countered with responses from him that 'its time for work, time for politics will come in 2022'