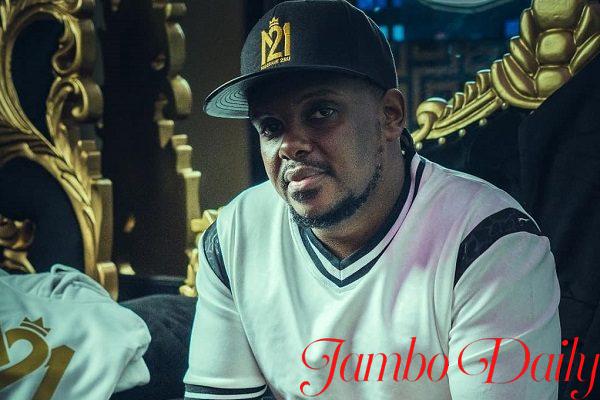 Nonini Biography, Age, Career, Education, Family, Net Worth.
Nonini is one of the 'Legends' in the Kenyan rap game. Apart from his music career, he is also an entertainer, radio host, entrepreneur, and philanthropist. He is referred to as the godfather of gene music in the country.
He is well known in the Kenyan music and entertainment industry especially owing to his hit track Furahi Day, which was once the country's Friday anthem. He is also an experienced radio host in the Kenyan media industry.
This article looks into Nonini's career, early life, education, and personal life.
Nonini Birth and Age.
Nonini was born on October 2, 1982, in Kamukunji estate, Nairobi, Kenya. The 'Furahi Day' hitmaker, 39, grew up in the streets of Nairobi City, which played a key role in shaping his career in genge music, for which he is known.
Nonini Tribe.
Nonini hails from the Luhya Nation, who are the inhabitants of the western part of the country.
Nonini's real name.
His real name is Hubert Mbuku Nakitare, which he was given by his parents at birth.
Education Background.
Much is not known about Nonini's educational background. However, what comes out clearly is that he has undergone high school education, from where his music career started sprouting.
Read DJ Kalonje Biography, Age Career Education, Family, Wife, Networth
He recently received a scholarship to study in the UK for a Business Undergraduate program at EDU Link International College, an institution affiliated with the University of Northampton. Nonini announced his new venture in a post with a short caption "Join me in Class, Turudishule"
Nonini Career Journey.
Although he had shown interest in music while still young, his career kick-started when he got a deal to join Calif records in 2002. He worked on some projects at Calif records before calling it quits joining Homeboyz production.
It was at Homeboyz production that his career picked up after he released his debut single track dubbed "Nonini ni Nani?", which placed him in the limelight. He later took over the industry with his second single "Manzi wa Nairobi", which dominated the showbiz for months and was a favorite sauce for nightclubs' adherents.
He would later release two singles; Weh Kamu and Keroro, the latter being slang for alcohol in Kenya, typically describing the life of a drunk Kenyan during the weekend. Nonini premiered his first debut studio album called Hayaring Game in 2004, two years after entering the rap game.
Read also Khaligraph Jones Biography, Age, Career, Education, Family, Wife, Net Worth.
The album was a combination of his previous singles including the two singles Weh Kamu and Keroro which were topping charts and playing frequently on radio stations by then.
He later collaborated with his fellow artist, Nameless to produce what would later become the country's Friday anthem, 'Furahi Day'. The track is a typical description of a Kenyan's life on Friday as it highlights how people leave work early on Friday to go for parties and hangouts.
As such, the song became a favorite hit in the country, especially city dwellers who would usually visit nightclubs on Friday to get entertained and break the monotony of a busy week at work. Things haven't changed much in modern Kenya, and surprisingly the song is still a vibe among city dwellers who like partying on Fridays in what is called "Sherehe' nowadays.
Read What campus students do on Friday nights will shock you!!
It is through the nature of his music that he was crowned the godfather of Genge music. He currently runs a video Production firm dubbed "Pro Habo", which is the mother of P-Unit, a well-known music crew that consists of rappers such as Bonnie, Frasha, and Gabu.
The crew has released a number of hits with the most significant ones being "Si Lazima" and "Kushoto-Kulia". In 2007, the group won the Kisima Music Awards under the Boomba Group Category.
His other albums include "Mwisho wa Mawazo" and "godfather".
Awards and Nominations.
Barely two years after joining the music industry, Nonini bagged the Chaguo la Teeniez award in 2004 and grabbed the same award in 2007 and 2008. In 2008, he also won the Kisima Music Awards, TV Africa Music Awards, and Pearl of Africa Music Awards.
In 2012, he was awarded as the most played artist across all media stations in Kenya by the Music Copyright Society of Kenya (MCSK). He was also appointed as one of the Performers Rights Society of Kenya (PRSK) directors, a position he has maintained to date.
Read Octopizzo Biography, Age, Career, Education, Family, Wife, Net Worth.
Nonini Wife and Family.
Despite his vulgar language when it comes to his music, Nonini got married and is a father to a son whom he sired with his wife Lady Bee, a gospel artist. The two became one in 2010 when Nonini was still young and an upcoming artist. However, they are rumored to have broken up, with the wife getting married to another artist.
Philanthropy.
Despite his hardcore nature of music, Nonini is a singer who likes lending a helping hand. He runs a Non- Governmental Organisation (NGO) which he uses to give back to society. His own established children's home known as Angel Centre is home to 44 vulnerable kids. He partners with his co-philanthropist simply identified as Wamaitha to take care of the neglected children.
Nonini Wealth and Net Worth.
Owing to his successful music career, Business, and luxurious radio presenter job, Nonini is a fairly wealthy man. His estimated net worth is about $8 Million.