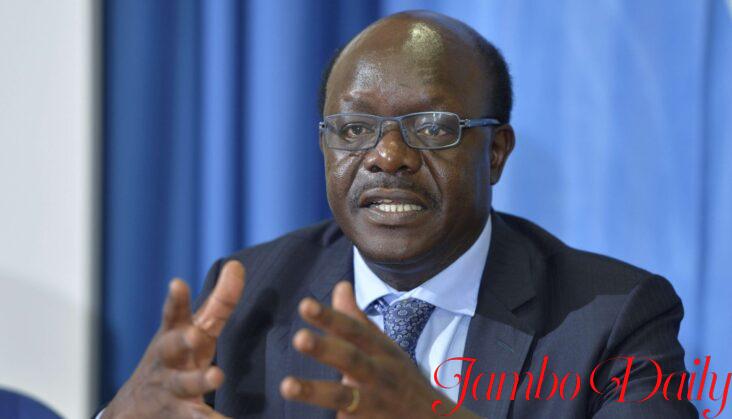 Mukhisa Kituyi Biography, Age, Career, Education, Family, Wife, Networth, Scandals and Controversy.
Mukhisa Kituyi is a Kenyan politician, Educationist, Political scientist, philosopher and a self-proclaimed economist. He has served as a member of parliament in Kenyan parliament representing Kimilili constituency in Bungoma County.
He has served as a secretary general for the United Nations Conference on Trade and Development.(UNCTAD) from 2013. He resigned from his powerful position in 2021 to concentrate on pushing his 2022 presidential bid agenda.
Birth and Age
Kituyi was born in 1956 at Bungoma, western Kenya as a son to Jamin Kituyi and Joinah Mukasa Kituyi. He is 65 years old as of 2021.
Education
Kituyi attended his primary school at Mbakalo Primary School in Bungoma before proceeding to Bokoli Secondary School for his ordinary level (O-Levels) education. He later joined St Mary's Yala for his advanced level (A-Level) certificate in Education.
After completing his A-Level studies, Mukhisa enrolled for a Bachelors Degree in Political Science and international relations at Makerere University in Kampala, Uganda. He graduated from Makerere in 1982 before joining the University of Bergen for a Diploma of Science in Comparative Productions (1984), Masters of Philosophy in Development Studies (1986) and a Doctorate (PhD) Degree in Social Anthropology (1989) respectively.
Career
Upon graduation and return to Kenya in 1989, Mukhisa took a job as a programmes officer at Norwegian Agency for International Development (NORAD) in Nairobi. He took a second role as a director at African Centre for Technology Studies (ACTS) in 1990 to 1991.
In 1992, Mukhisa decided to test his skills and knowledge on politics when he declared his candidature for Kimilili constituency Member of Parliament. He campaigned and won against his competitors, earning him an entry into the then Kenyan parliament during the reign president Daniel Moi.
While serving as an MP, he was a chief opposition whip and a member of the House Business Committee. In 1997 General Elections, he vied again and won the parliamentary seat for Kimilili constituency. This time he served as a Minority leader and a member of parliamentary committee for defense and foreign affairs.
He was re-elected into parliament in 2002 general elections through a Ford Kenya Party ticket. After re-election, he was appointed as the minister of Trade and Industrialization by president Mwai Kibaki, a position he served until 2007. During his reign as a minister, he chaired the council of ministers for the Common Market for East and Central Africa (COMESA) and the African Trade Ministers council.
From 2011 to 2012, he was a consultant to African Union Commission and a Chief Executive Officer, Kenya Institute of Governance (2012-2013). He was appointed as the Secretary General for United Nations Conference on Trade and Development (UNCTAD) in 2013. Mukhisa resigned from his secretary general role in February 2021 to push his political agenda, which was his exit plan from the Organisation.
Marriage
The political scientist and philosopher Kituyi is married to one Ling Kituyi, and together they have 4 children. The children are identified as Ivar Makari, Sitati Kituyi, Laila Kituyi and Thor Masasule Kituyi. Unfortunately, Kituyi lost one of his children Ivar Makari who died from a diabetic illness. He passed away on 28 June 2015 and was buried at his fathers' rural home in Mbakalo, Tongaren constituency.
Wealth and Assets.
Mukhisa's wealth and assets are not currently in the public domain, but judging from his huge role at UNCTAD and other roles he has served, he is a fairly wealthy man.
Scandals and Controversy.
In June 2021, news emerged to the public that Mukhisa had assaulted his girlfriend after she had rejected her sexual advances. According to Diana Opemi Lutta, the alleged girlfriend, the two had been booked for a room at a 5-star hotel in Mombasa when the incident occurred.
Opemi, the mistress later filed an assault case at Nyali Police Station, which was later solved. In a divulge seen by Jambo Daily, the case report under OB number 10/22/05/2021 reads:
"Assault report to the station by one Diana Opemi Lutta (who) has submitted a report today the 22nd day of May 2021, at around 0200 hours. She has been assaulted by a person known to her within Tamarind Village, namely Mukhisa Kituyi whom she claims to be her boyfriend." The police had further advised her to seek medical attention after issuing her with a P3 form.
In a series of drama and events resulting from the allegations, a video of Mukhisa Kituyi Laying stark naked on a bed emerged and has been circulating on the streets of social media. The video is believed to have been released by his girlfriend-turned rival, whose picture has also been circulating on social media.
In the picture, the brown skin lady is seen wearing a red dress revealing the beauty of her curvylicious body. The nature of the lady has left Kenyan men talking on social media, arguing that no man would resist the temptation and sexual drives geared towards a beautiful lady like her, and Mukhisa is not an exception.
However, Mukhisa has since rubbished the allegations both the assault and the video, citing that there are politically instigated forces who are determined to damage his reputation.
"Someone had written a report claiming l had assaulted her but it was not true, I've never beaten any woman in my life nor do I intend to ever do it at any given time. We sorted out the case and it was withdrawn.."
Concerning the video, Mukhisa responded through his Facebook account, claiming that the video was photoshoped and blended with his picture to damage his reputation.
" I am blessed with intelligence, experience, eloquence and a big heart for all.
I therefore dismiss the photoshopped edited video doing rounds on social media purporting to expose my private parts doesn't in any way whatsoever depict the true representation of my private organs. I want to distance myself from such false and untrue malicious stories destined at killing my political career. I want to assure my supporters to treat the video with Optimum ignorance." Wrote Dr Mukhisa Kituyi.
See Also George Magoha Biography, Age, Career, Education, Family, Wife, Net Worth
Social Media reactions and response from Deputy President.
The story has attracted mixed reactions among Kenyans both on social media and on the ground. While some believe that the infamous video was photoshoped and distributed to damage his political career, others believe that it was him who was seen in the video and that he is trying to divert public attention by denying to the claims.
Meanwhile the deputy president has advised men to stay away from 'Mpango wa Kando' as it is embarrassing them. He was speaking at a gathering during the UDA popularization tour in West pokot when he spit the humorous words in Swahili. It is believed that he was indirectly addressing Dr Mukhisa.
"Kama huko na nafasi ya mpango kamili, uko na haja gani ya mpango wa kando? Wachana na mpanga ya kando, iko na kisirani mingi," Said Ruto.
"Si mliona jama mwengine aliingia kwa matope kwa sababu ya mpango wa kando?" Ruto said eliciting rumbles of laughter from the crowd.
Read full story: william ruto warns against having mpango wa kando mukhisa kituyi scandal iko na kisirani mingi