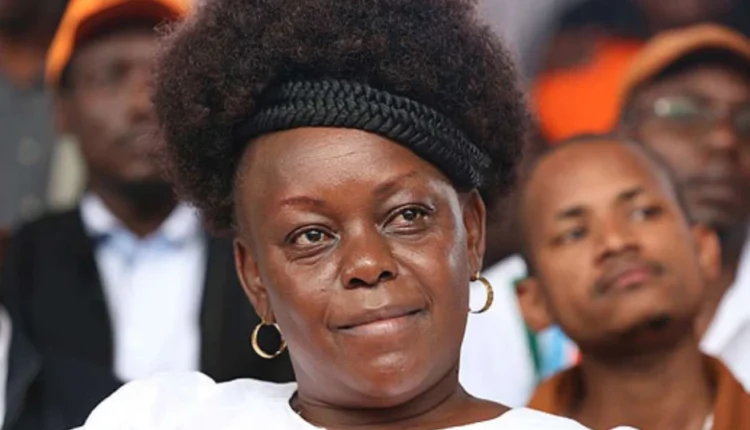 Millie Odhiambo Bio, Age, Career, Personal Life, Net Worth
Millie Odhiambo is a Kenyan Lawyer and vocal politician currently serving as a member of Parliament for the Suba North constituency.
Bold, outspoken, courageous, and bright are some of the words that best describe Millie Odhiambo Mabona. She is not only an outspoken politician, but also a well-educated woman.
This article examines Millie Odhiambo's biography, focusing on her accomplishments in academia, law, politics, and her personal life.
Millie Odhiambo Age and birthplace
She was born on November 1st, 1966, in Homa Bay. Odhiambo Harrison and Auma Damaris took care of their children and sent them to school because they understood the value of education. Her father, on the other hand, died in a boating accident in 1973.
Millie Odhiambo Education and Experience
Millie Odhiambo has gone throughout the world to further her studies, beginning in Kenya. She attended Homa Bay Primary School before moving on to St. Francis and Limuru Girls for her A' and O' levels.
Teachers described her as one of the most talented pupils, always rising to the top of the class. Following her strong achievement, she enrolled at the University of Nairobi to study law.
She did not give up and continued to learn from various universities in America, Italy, and Sweden. She earned a master's degree in women's and children's law from New York University. She also obtained qualifications and diplomas from Lund University, Sweden's Wallenberg Institution, and Raul and Marquette Universities in the United States.
Read Most Fashionable Female Politicians in Kenya
Millie Odhiambo's Professional Career
Her legal career began in civil litigation, with an emphasis on human rights legislation. She worked at Kamau & Kamau Advocates, where she handled issues involving human rights violations and breaches. She then went into public service, working in the Attorney General's office. She then worked in international organizations, where her impact on human rights issues rose enormously.
The International Federation of Women Lawyers and the International Commission of Jurists are two among them. She has also worked as a legal expert and consultant for the United Nations. Millie Odhiambo founded CRADLE, a foundation dedicated to increasing awareness, implementation, and respect for children's rights.
She first entered politics in 2007, when she was nominated for a Member of Parliament position, and then ran for Mbita Constituency MP in 2013. Her opponents posed significant challenges and difficulties, but she triumphed. In a brutal attack, competing teams killed her bodyguard and burned down her home.
Millie Odhiambo in Parliament
After leaking of nominated Interior CAS Millicent Omanga's nudes on social media in April 2023, the outspoken MP came out to defend her and other women who had fallen victim to such ordeals.
Millie Odhiambo suggests that men who post intimate videos and images of women on social media are supposed to be sentenced to life in prison.
During a debate in Parliament on Thursday 20 April, the fiery lawmaker expressed her outrage and disgust at an ongoing trend of women political leaders being harassed on social media after their ostensibly private photos and videos are released to the public, presumably to tarnish their reputations.
According to MP Odhiambo, the Directorate of Criminal Investigations (DCI) should begin an investigation to identify those responsible for such activities and put an end to the practice immediately.
Millie Odhiambo Husband and Kids
Millie is married to Mbona Magugu from Zimbabwe and has a stepdaughter named Lebo.
Millie Odhiambo's net worth
Her net worth has yet to be determined, and details about her asset holdings are unavailable to the public.