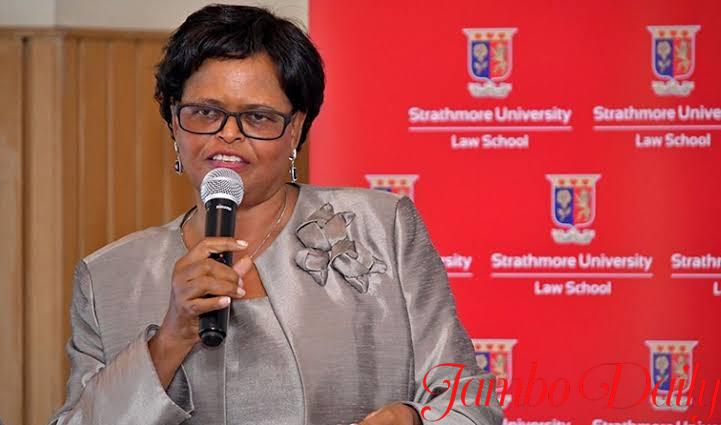 Martha Koome Biography, Age, Career, Education, Family, Husband, Net Worth
Lady Justice Martha Karambu Koome is a Kenyan Judge, Lawyer, Chief Justice of Kenya, and the president of the Supreme Court of Kenya. She was a practicing Judge at the Court of appeal in Kenya until 27 April 2021 when she was nominated as Chief justice to replace former Chief Justice David Kenani Maraga who retired from office in January 2021.
She was among other judges who appeared before the judicial service commission to be interviewed in their quest to become chief justice of Kenya.
Martha Koome Age and Birth.
Justice Martha Koome was born in 1952 at Kithiru village, Mirigamieru location in Meru County. She is 69 years as of 2021. She was born and raised in the village in a family of 18 children; her father had two wives.
Education.
After completing her high school education, Martha joined the University of Nairobi for a bachelor's degree in law and graduated in 1986. She proceeded to the Kenya school of law where she pursued and attained a postgraduate diploma in law in 1987. She was subsequently admitted to the Bar as an advocate that same year.
She further pursued his studies and graduated in 2010 with a master's degree in public international law from the University of London.
Read Kiraitu Murungi Biography, Age, Family, Wealth, Political Career
Martha Koome Career Journey.
Upon graduating from the Kenya school of law, Koome joined the private law sector and began practicing law in 1988 with a law firm. She was able to run one of the most successful women's law firms at a time when only men's law firms were common. She established herself as a human rights lawyer and was passionate about gender equality and equity.
She used to defend political detainees and victims of political instability during the one-party rule era. She also played a key role during the push for the amendment of section 2A of the constitution and for Judiciary independence
Upon her return to Kenya, in 2003 she took a role as a judge and served in several courts including in Nairobi and Nakuru. She was later promoted to senior judge and posted to the court of appeal in 2011. In 2020, she became a runner-up for the 2020 UN person of the year.
Martha surprised many in 2012 during the vetting of judges when she chose to be interviewed in public instead of the normal indoors. She was sensitive about corruption in the judicial system and admitted quitting practice on criminal law while serving in private law because of corruption.
Justice Martha Koome was nominated as the Chief Justice on April 27 2021 by the Judicial Service Commission which was led by Prof. Olive Mugenda. The commission was mandated to conduct interviews on aspiring judges and forward the selected candidate to the national assembly for vetting and subsequent approval by the President.
On 19 May 2021, President Uhuru Kenyatta officially appointed Martha Koome as the Chief Justice of the Republic of Kenya. She was subsequently sworn in into office on Friday 21 May 2021, becoming the first-ever female chief justice in Kenya.
Husband and Family.
Lady Justice Martha Koome is happily Married to her husband Koome Kiragu and together they have three children whose names are not yet known to Jambo Daily at the moment.
Wealth/Net Worth.
Justice Martha has worked in both private and public law since 1988 and no doubt he has accumulated a lot of wealth while also receiving a good salary as a court of appeal judge. Her estimated Networth is about 1 Million. However, the exact figure of her wealth is not available and this article shall be updated as soon as reliable information is sourced.
Read George Kinoti DCI Biography, Age, Career, Education, Family, Wife, Net Worth