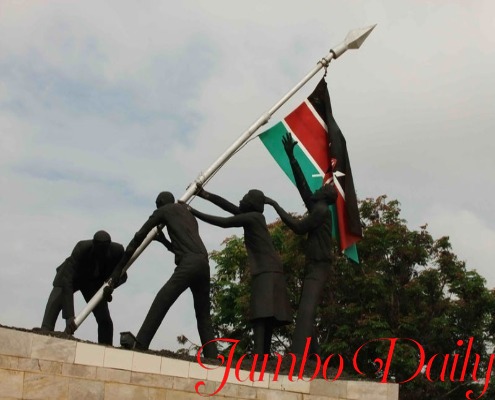 List of All Public Holidays In Kenya.
A public holiday is a National Day of Celebration or marking a certain event, whether historical or a current one. Public holidays are usually observed by every individual in the country, regardless of position, location, social status, or culture.
In Kenya, we have about 15 public holidays that are observed every year. During these holidays, all government offices remain closed and all services affiliated to the same remain suspended. Private sectors and corporates also observe public holidays and suspend their services. However, some private firms defy the government directives and continue to run their services during these holidays.
The most commonly observed public holiday in Kenya is arguably Christmas day, this is observed not only in Kenya but the world at large. During the Christmas season, the government, private firms, and corporates issue their employees with a one-week leave or so, to go and celebrate Christmas with their families. Other public holidays observed include Jamhuri day, Madaraka, and Mashujaa Days.
Let us look at the list of public holidays observed in Kenya every year.
New Year Day.
New Year's Day is a public holiday celebrated to mark the start of a new year just after the Christmas celebrations of the preceding year. It usually comes on the same day as Christmas day as it appears exactly seven days after Christmas on the calendar.
During New Year's Day, people celebrate and have fun as they welcome a new year. Just like Christmas day, people usually travel to their rural homes and reunite with their families to welcome the new year before going back to their normal routines after a few days.
Read List Of Counties in Kenya, Their Governors, Codes and Population 2021
However, some communities used to believe that New Year Day should not be a day of celebration, but a day to wreck their farms and till, dig, plant as they welcome a new year with hard work. They believed that by doing this, the year would be a successful one full of good fortunes and a rich harvest. They also believed that working on this day would drive away laziness for the entire year.
Good Friday.
Good Friday comes just at the end of the Lenten season observed by the catholic and other distinguished churches. It is used to mark the day that Jesus Christ was Crucified, and died on the cross. The day is observed as a national holiday, and people are usually relieved of their duties temporarily on this day.
Easter Monday.
Just three days after Jesus was crucified and buried in a tomb, he rose from the dead and ascended into heaven. This day is used to celebrate the rising of Jesus Christ from the dead, and as such is observed as a public holiday. Easter Monday is usually the Monday following the celebration of good Friday and is marked by people celebrating in churches and places of worship, and later at their homes.
Labour Day.
Every 1st of May, Kenyans take a break to celebrate national workers day. This day is used to mark and appreciate all workers who play a big role in the development of our country.
Madaraka Day.
Madaraka Day is celebrated on 1st June every year. This is the day that Kenya first tasted a small chunk of independence after being granted self-internal rule by the British colonial government in 1963. The colonials would later grant the country full independence on 12th December the same year, granting us full control of our land and resources.
Idd-ul-Fitr
During this day, Muslims mark the end of the holy month of Ramadhan, the Muslim holy month of fasting. Although only a small section of Kenyans are Muslims, this day is marked as a national holiday and all government offices remain closed.
Idd-ul-Azha
Idd-ul-Azha is the 10th day of the last month of the Islamic calendar. It is usually celebrated by Muslims to mark the end of the Islamic year and is usually called the "Feast of the Sacrifice".
Utamaduni Day.
Utamaduni day falls on the 10th of October every year. This day was initially known as Moi day, in remembrance of the 2nd president of the Republic of Kenya. After a series of debates and controversies regarding the relevance of the holiday, it was abolished.
However, the day was later reinstated by the national assembly but its name was changed to Huduma day, and later Utamaduni day to mark Kenya's rich history and cultural heritage.
Mashujaa Day.
Mashujaa day is a national holiday celebrated on 20th October every year. It is a day used to celebrate Kenyan heroes who fought for the country's independence and delivered it from the wicked hands of the colonialists.
Read Kibicho tells off Governor Ann Waiguru in 2021 Mashujaa Day Preparations controversy row.
This day was initially named after Kenya's founding father Mzee Jomo Kenyatta, and formerly known as Kenyatta day but its name was later changed to Mashujaa day to accommodate other freedom fighters.
Some of the heroes and freedom fighters recognized during this day include Mzee Jomo Kenyatta, Dedan Kimathi, General Mwariama, Harry Thuku, Gama Pinto, Martin Shikuku, Koitalel Arap Samoei, Jaramogi Oginga Odinga among others.
Jamhuri Day.
Jamhuri day is celebrated on 12th December every year. It is a celebration that marks the day when Kenya achieved full independence and untied herself from the chains of colonialists.
On 12th December 1963, the British colonial government handed over the government to Jomo Kenyatta who was then serving as the prime minister, making him the first president of the Republic of Kenya.
Christmas Day.
Every 25th of December, all Christians in the world celebrate Christmas to mark the day that Jesus Christ was born, and Kenya is not an exception. Christmas day is usually a day of joy, and people working in the city travel to the rural areas a month, week, or days before to celebrate this important day with their families.
Similarly, those working in government offices, corporates, and private firms are given a short holiday to celebrate Christmas with their families before the commencement of the new year.
Boxing Day.
Boxing day comes just after Christmas day, particularly on 26th December every year. It is a day to relax, having celebrated Christmas day with lots of delicacies and fun, it's time to wrap up the festivals.
It is usually perceived as a day to unwrap the Christmas gifts received before or during Christmas festivities, probably in boxes, hence the origin of the name boxing. It is also a day to reunite with relatives, longtime friends, and visitors to have a word with them.
Christmas Holiday.
The Christmas holiday is celebrated on 27th December every year to mark the peak of Christmas celebrations and preparation to go back to the normal routine. However, some people celebrate Christmas for more than one week and the Christmas season is usually perceived to run from 24th December to 2nd January of the following year. That amounts to a period of around 10 days of celebration.