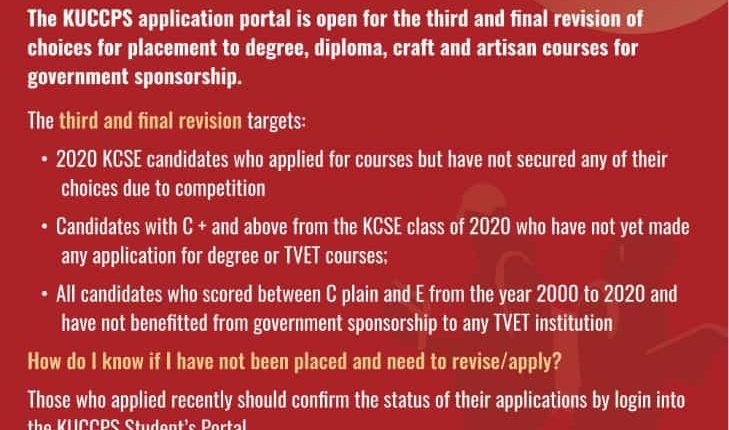 Just in: KUCCPS Third and Final Application Window Opened.
The Kenya Universities and Colleges Central Placement Services (KUCCPS) has announced the THIRD & FINAL Revision of Choices for Placement to degree, diploma, craft and artisan courses for government sponsorship.
The third and final revision applies to:
1.2020 KCSE candidates who applied for courses but have not yet secured any of their choices due to competition.
2. candidates with C + and above from the KCSE class of 2020 who have not yet made any application for placement to degree or TVET programs. 
3. All candidates who scored between C plain and E from the year 2000 to 2020 and have not benefitted from government sponsorship to any TVET institution. 
How do I know if I have not been placed and need toe revise/apply?
Those who applied during the second revision of courses should confirm the status of their applications by login to the KUCCPS Student's Portal.
After logging in, you should see a notification that you have provisionally secured one of your selected courses which is subject to approval by the placement board. 
If you DON'T see this notification, kindly submit the third application to be considered and placed to the available programs.
The KCSE index numbers of the applicants required to do a third revision of choices is published on the website.
Therefore, if you find the above procedure tiresome, you can just navigate to the Resources section and download the list to check if your index number appears there. 
According to the KUCCPS website, the Revision/Application period shall run from July 13 to July 17 2021.
Read: KUCCPS Placement Results 2021, All You need to Know.
KUCCPS Student Login and Application Procedure 2021.
List of Public Universities in Kenya, Nicknames and Years Established
Most Marketable Medical Courses in Kenya, Salaries and Qualifications 2021.
Medical Courses to Pursue with KCSE D+ at KMTC
Note that this is the final application after which KUCCPS shall officially close its portal to allow for the final placement and other activities to take place.
If you have not secured a program in your previous applications, make sure you apply in time to avoid being left out!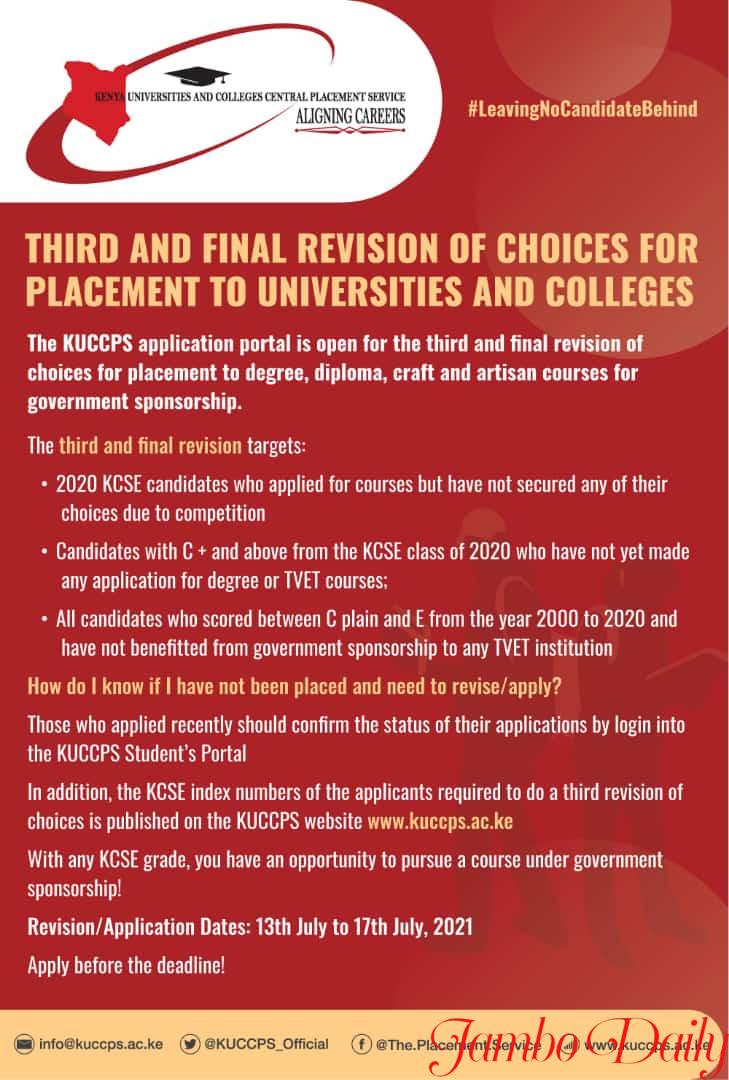 Read: Kenyatta University Distance Learning Courses and Fee Structure.