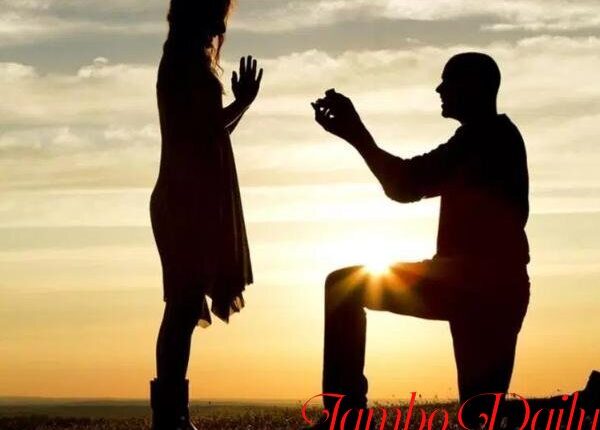 "Just Impregnate Her" Men Advised on How to Propose to Women.
How are you planning to propose to your woman?
A Twitter user identified as Ja Loka has advised men to impregnate their women when proposing to them and stop engaging in silly publicity stunts.
The controversial keyboard warrior argues that the best way to propose to a woman is by making her pregnant, an exercise he says would take only two minutes of serious work.
"The best way a man can propose to a woman is by making her pregnant, and it only takes two minutes of honest work," wrote Ja Loka.
Ja Loka believes that any other activity apart from impregnating her is just a publicity stunt and consequently amounts to being a simp.
"These other stunts of chopper rides and kneeling in malls are for men who are compensating for something they lack," added Ja Loka.
Over the recent years, men have been seen coming up with new ideas of proposing every now and then. Most of the men propose to their women by kneeling down and presenting them a flower or a wedding ring.
However, it doesn't always end well as some get their proposals rejected while others are accepted.
Read Also: Best Free Dating Sites In Kenya 2021.
While some call their girlfriends for a coffee and propose on the spot, others wait for a special event like valentine's day or any other suitable day.
Others have gone to an extent of flying their girlfriends with a chopper and proposing to them instantly at a conducive place.
In extreme cases, some men have been seen proposing on the streets, bus parks, malls, and supermarkets.
In 2017, a man defied the odds after he proposed to his girlfriend during Valentine's day at the top of Kenyatta International Conference Centre (KICC) in Nairobi, Kenya.
In 2018, a Malawian gospel rapper, Duncan Zgambo (Gwamba) hired a chopper and flew to South Africa to propose to his long-time girlfriend Kondi.
Duncan reportedly spent an estimated Ksh1.5 million to hire the chopper and book a venue at Sparkling Waters Hotel in Rustenberg, South Africa for the event.
Zgambo and his girlfriend flew over 120 kilometers from Pretoria to Rustenberg. Things went well for the award-winning songwriter and Bola Kuche hitmaker who later married his girlfriend in October 2018.
The incident was first mistaken for a Kenyan Luo man flying to Murang'a to propose to his long-time girlfriend before the truth emerged that it was a Malawian man and not really a Kenyan. The earlier story was a choreographed and fictional one.
Read: Should Ms. Right Post You On Social Media?
It is not new for men to propose to their girlfriends using different techniques. Some ladies also believe in formal proposing and do not prefer the informal way like the one suggested by Ja Loka.
As a man, it is up to you to decide whether you want to use the formal way or heed Ja Loka's advice. Either way, you shall have submitted your proposal.