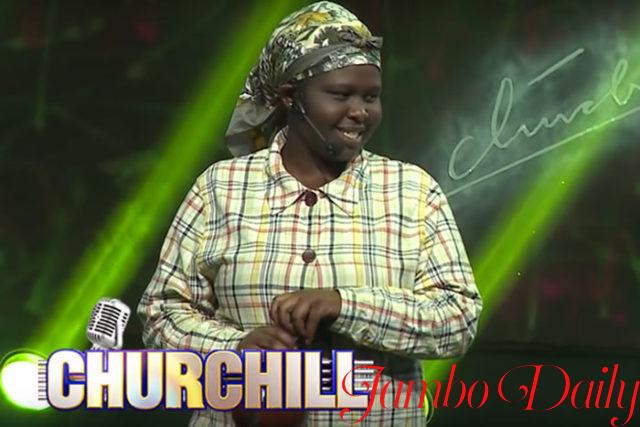 Jemutai Comedian Biography, Age, Career, Education, Family, Husband, Comedy
Born Stella Bunei Koitie, Jemutai Comedian is a Kenyan Emcee, Comedian, and Social Media influencer. She has made several appearances in the Kenyan media and entertainment industry, especially on NTVs Churchill Show Stand-up comedy. She is one of the most liked Kenyan comedians and entertainers.
Jemutai Comedian uses the persona of a naïve village girl who has just landed in Nairobi City for the first time, narrating her petrifying experiences on the streets. She appears on stage with a primitive dress code where she dons a long voluminous dress, thick socks, and a headscarf. This feature has aided her to grow her audience and take her talent to a higher altitude.
Birth and Age.
Jemutai was born and raised in Elgeyo Marakwet, the Rift valley region. When she was young, her parents moved with her to Embakasi-Nairobi where she has lived for the better part of her life.
Educational Background.
After completing her secondary education, Jemutai enrolled for a bachelor's degree in Information Technology (IT) at Jomo Kenyatta University of Agriculture and Technology.
Upon graduation, she started off as an intern at Kengen Electricity Generating Company where she performed IT support services. She would later quit the job to chase her passion for comedy citing she had no interest in her career.
Jemutai Comedian Career.
Jemutai first appeared in the limelight when she delivered an electrifying performance at Churchill's show which airs on NTV every Sunday at 8 Pm. Since then, she has been rising through the ranks to become one of the famous female comedians in Kenya. But before then, she had her own share of struggles and tribulations in her quest to join the comedy industry.
After quitting her job at Kengen, Jemutai drifted back to her parents' home in Embakasi. While at home she started attending several comedy auditions but she was not lucky to be selected.
She was almost giving up to return to her IT career when she luckily landed her first gig in October 2015 and finally appeared on stage on October 22, 2015. Jemutai seized the opportunity and performed to the best of her ability, this earned him an entry to the official Churchill show team.
Jemutai Comedian Family.
At first, Jemutai Comedian did not prefer revealing her relationship status to the public. However, there were speculations that she was dating fellow comedian professor Hamoh, claims which she had refused. Despite that, towards the end of April 2021, Jemutai could not hide her marriage status anymore and she had to spill the beans.
Through controversial blogger Edgar Obare, Jemutai informed the public that she had been married to self-proclaimed prof. Hamoh for three years and together they had two children. She exposed Hamoh as a dead-beat father who did not take care of his children and had neglected his fatherly duties and responsibilities.
Read Also Professor Hamo Biography, Age, Career, Education, Family, Wife, Networth, Controversy
Love Journey with Prof. Hamoh
Jemutai further narrated how she had fallen in love with prof Hamoh and they moved in together in 2018 when she got pregnant with their first baby. At that time Hamoh had not joined Hot 96 and Jemutai used to foot their bills.
When Hamoh finally joined Hot 96, Jemutai had to quit her job to help him create the best content for his morning show. According to Jemutai, Hamoh started mistreating her after gathering fame and money and neglected his parental obligations.
It is then that Jemutai decided to revert to work to provide for her kids. Their differences finally overflowed and they broke up in 2020 during the covid-19 pandemic. Jemutai was left behind with their two children to take care of.
Read Churchill biography age career education wife net worth salary
The comedian said she had resulted up selling her Facebook page named 'Jemutai Comedian' to any willing buyer so she could gather some cash to provide for her children. Jemutai had quoted the page, which has 850K+ followers at ksh 2 per follower, which approximately amounts to ksh 1.7 Million.
Additionally, the mother of two said she did not blame Churchill (Daniel Ndambuki) for her fate since he had given her the platform to showcase her talent and a potential booster for her comedy career, and if anything she was just grateful.