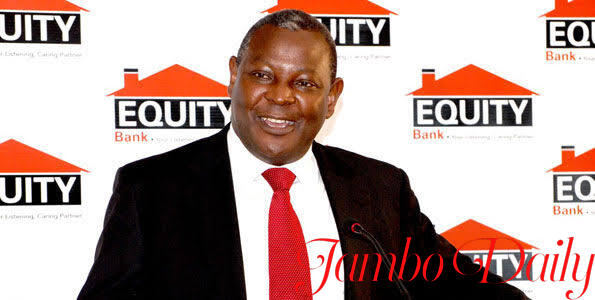 James Mwangi Bio, Age, Career, Education, Family, Wife, Net Worth.
James Njuguna Mwangi is a Kenyan banker, accountant, entrepreneur, and the current CEO of Equity Group Holdings that owns Equity Bank of Kenya. Equity Group Holdings is a Banking conglomerate with the largest customer base in Africa, currently, the group commands over 12 million customers.
In this article, we shall be looking into James Mwangi's Biography, highlighting his age, date of birth, educational background, career, family, wife, children, siblings, net worth, property, and any other relevant information about him.
James Mwangi Age and Place of Birth.
James Mwangi was born in 1962 at Kangema, Murang'a County in Central Kenya. He, together with his six siblings were raised single-handedly by their mother Grace Wairimu Mwangi after their father was killed in the Mau Mau wrangles. That tells you that life wasn't so rosy for Mwangi as a young boy, he had a lot of challenges being raised by a single mother.
James Mwangi Educational Background.
Mwangi began his education at Nyagatugu Primary School located in Kangema village where he sat for his Certificate of Primary Education examination. Due to his exemplary performance in the primary school examination, he was awarded a scholarship for secondary school education by the government. He, therefore, enrolled at Chagaki Secondary School for his O-Levels.
He later enrolled at Kagumo High School for his A-Levels studying English Literature, Economics, and Geography. After obtaining his A-Levels certificate, Mwangi proceeded to the University of Nairobi where he undertook and graduated with a Bachelor of Commerce degree (B.Com). He also undertook the Certified Public Accountant (CPA) examinations for all sections and excelled.
Read List of Commercial Banks Operating In Kenya 2021.
Additionally, Mwangi holds an academic degree in Advanced Management Programme from Strathmore Business School, Barcelona, Spain. He also holds Five Honorary Doctorate Degrees including Doctor of Entrepreneurship from Jomo Kenyatta University, Doctor of Humane Letters from Kenyatta University, and Doctor of Business Administration from Kenya Methodist University.
James Mwangi Career
Upon graduation from University, James started out as an Auditor. In 1993, the then senior executives of Equity Building Society invited him to steer the financial institution from bankruptcy. The company had accumulated losses amounting to Ksh 33 Million resulting from consecutive annual losses of Ksh 5 Million.
Mwangi was then assigned the role of a strategy manager, mandated to initiate a turnaround at the institution. His first move was to carry out the motivation of the employees to deliver better services to the 27,000 customers the group had by then. He then encouraged them to use 25% of their salary to buy EBS shares. When things began straightening up, the society started selling shares and sharing annual dividends in 1997.
In 2000, Equity Building Society computerized its operations and they were able to raise more customers and capital. On August 31, 2004, the society officially changed its name to Equity Bank Kenya Limited.
By October 2014, the Bank has subsidiaries in Kenya, Uganda, Tanzania, Rwanda, and Sudan. In March 2019, the group was listed as a large financial organization in East Africa with an asset base value of $5.9 billion, and a customer base of 12.4 million. All this is attributed to the relentless efforts of the group CEO, James Mwangi who salvaged the company when it was on its knees.
James Mwangi is currently serving as the chairman of Kenya Vision 2030, Group CEO & Executive Director, Equity Group Holdings Ltd. He is also the Chancellor of Meru University of Science and Technology.
James Mwangi Family.
The Equity Group CEO is married to his lovely wife Jane Wangui with whom they have brought forth four children. They both own shares in Equity Group Holdings and British American Insurance Company (Britam).
James Mwangi Awards and Nominations.
Mwangi has bagged a number of awards and recognitions including the AfricanBanker of the year in 2010, 2011, and 2018, Africa CEO of the year (2015), and Africa philanthropy award in 2012. He has also been awarded crowns of Moran of the Burning Spear (MBS), Head of State's Commendation (HSC), and Chief of the Burning Spear (CBS).
James Mwangi Net Worth.
Owing to him and his wife's massive investment in the banking sector, Mwangi's family is undoubtfully wealthy. His estimated net worth is about $170 Million.