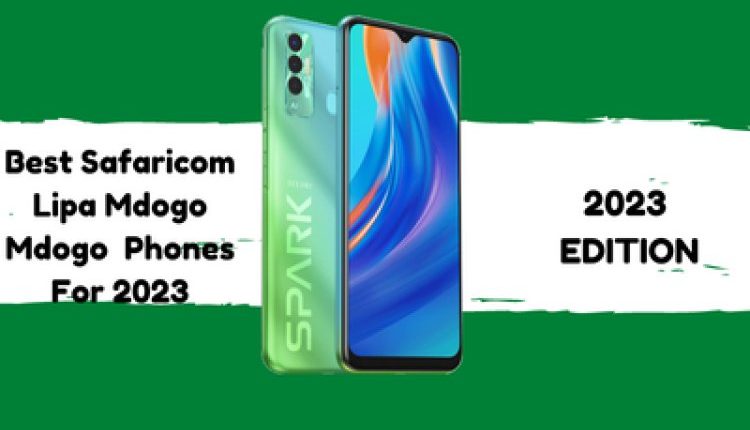 How to get Safaricom Lipa Mdogo Mdogo Phone
Safaricom PLC is the leading mobile and internet service provider in Kenya. They have teamed up with Google to launch the Safaricom Lipa Mdogo Mdogo smartphone device financing program in Kenya.
Customers can use this service to buy a smartphone in affordable daily installments starting at Kshs 20. The payments can also be made on a weekly on monthly basis depending on the agreement.
In the beginning, Safaricom only provided inexpensive phones on the platform, but more expensive phones were added as time went on.
The phones available are those agreed on a partnership deal with Google, Itel, and Tecno to offer pricey phones on the Safaricom Lipa mdogo mdogo program.
This article will brace you with information on iw to access the Safaricom lipa mdogo mdogo phones listed on this product.
Qualification for the Lipa Mdogo Mdogo Phones
Prepaid clients can use the service. To check your eligibility, you must contact *544#. But there are certain restrictions, like:
You must be at least 18 years old and not more than 75.
Your existing smartphone must support 2G or 3G.
You should not have defaulted on loans such as Fuliza, Okoa Jahazi, and M-Shwari.
You ought to not be on the CRB and have a decent credit score.
You must have used Safaricom as a regular customer for at least a year.
You will receive an SMS to confirm if you are eligible for the service; remember to read the terms and conditions before completing the purchase.
Safaricom Lipa Mdogo Mdogo Phones?
On the Lipa Mdogo Mdogo plan, Safaricom now provides the iTel, Techno, and Neon Ray devices. The available Safaricom Lipa Mdogo Mdogo phone models, the needed down payment, and their daily installments are shown below:
Itel A24 phones: deposit Ksh 500 and pay Ksh. 20 daily
Neon Ray Pro: the deposit is Ksh. 500, daily installment is Ksh. 20
TECNO Spark 7: deposit Ksh. 3,000 and pay Ksh. 50 daily
TECNO Camon 17: deposit Ksh. 5,000, pay Ksh. 80 daily
How to enroll for the service
Enrolling for Lipa Mdogo Mdogo on your Safaricom line is as follows:
Dial *544#
Choose Lipa Mdogo – Option 8
Review and concur with the terms of service.
If you are qualified, Safaricom will send you an SMS to let you know.
If accepted, the SMS will list the costs and cell phones that are available.
Pick a good phone from the available options.
Read also,
Make the necessary M-Pesa deposit.
Call any nearby Safaricom customer service location.
Read also, How to get a Mogo Smartphone Loan in Kenya
How to pay for Lipa Mdogo Mdogo Phones
By dialing *544*5# and selecting "pay for yourself or another user," you can manually pay for the phone. By scheduling the payments through *544*5#, you can also have Safaricom deduct the daily, weekly, or monthly installments.
Automatic withdrawals from your MPesa account will be made by Safaricom, and they will stop once the last installment has cleared.
You will get an SMS asking you to make a manual payment if the funds in your MPesa account are insufficient to cover the deduction.
These phones cannot be paid for using the Fuliza overdraft service.
Lipa Mdogo Mdogo Goodies
When you pay consistently for seven days, Safaricom will provide you 100MB of free YouTube packages as a reward to encourage users to make daily payments. You are eligible for a 1 GB data package from the operator once you purchase the phone. The terms and conditions of the manufacturer's warranty apply to the offered phones.
What Happens if You Fail to Pay for the Phone?
You'll receive reminders to pay from Safaricom three times per day. Safaricom will lock the device for daily installment members after 4 days, limiting use.
You won't have access to outgoing calls or SMS after seven days of default.
You will be placed on a blacklist and ineligible for future device loan facilities if you are in default for 30 days. Your information will also be sent to CRB.
What Happens if you lose your Phone?
You must immediately contact Safaricom via Customer Care Contacts, who will lock the device and make an effort to recover it. You will, nevertheless, keep making the remaining payments until everything is settled.
Conclusion: How to access safaricom lipa mdogo mdogo phones
This is a simple guide that you need to get started with a Safaricom lipa mdogo mdogo phone. Start your journey to owning a smartphone even if you don't have enough cash with a flexible plan from Safaricom.