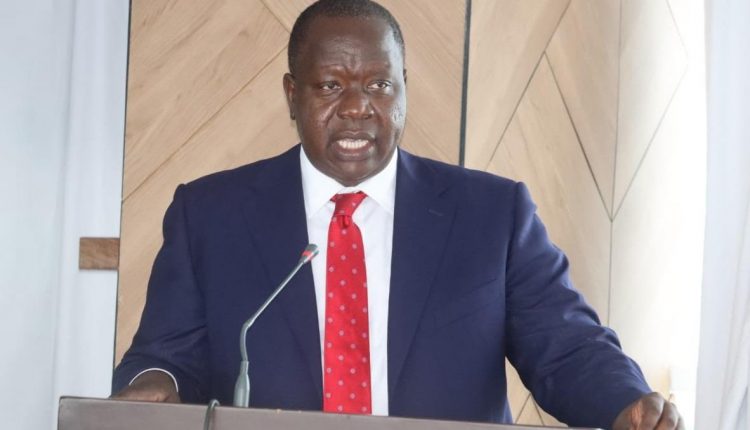 Fred Matiang'i Biography, Age, Career, Education, Family, Wife, Networth
Fred Okengo Matiang'i is the cabinet secretary for the Ministry of Internal Security in Kenya. He was appointed into office in an acting capacity by President Uhuru Kenyatta on July 8 2017 following the sudden demise of Gen Joseph Ole Nkaissery who was holding the office. Matiang'i, who was then serving as Minister of Education had to double up to serve in both ministries of Education and Interior as well.
In January 2018, Matiang'i took up a full role as the cabinet secretary, ministry of interior following the president's second comprehensive cabinet appointment. In January 2019, Matiang'i was assigned another role as the chairperson of the national development implementation and communication cabinet committee, giving him more power and authority over other cabinet secretaries (Super CS).
Birth and Age.
Fred Matiang'i was born in the Borabu constituency of Nyamira County in Nyanza region of Kenya. Details about his exact date of birth remains at large.
Education.
After completing his secondary education, Matiang'i proceeded to Kenyatta university where he pursued a Bachelor of Education. Holding a degree in education, Matiang'i enrolled for a master's degree in English at the University of Nairobi. He later undertook a doctorate degree (Ph.D.) in communication and comparative literature at the university of Nairobi, this acquired him the title of a Doctor.
Fred Matiang'i Family.
Fred Matiang'i is married to his one wife, and together they are blessed with two children. Detailed information about Matiangi's family remains scanty as he prefers to keep his personal life private. However, he has a brother by the name John Matiang'i who serves as a National treasurer at the Kenya National Union of Teachers (KNUT).
Wealth and Net-worth.
Dr Matiang'i takes home a hefty gross salary of more than Ksh 1 Million monthly. He earns several allowances owing to his key role and position in the government. In addition to that, he earns from his other investments and business entities. It is only prudent to classify him as a multi-millionaire although the exact figure of his net worth is not in the public domain.
Fred Matiang'i Career Journey.
Matiang'i was a lecturer at the English department at the University of Nairobi. He held research and program implementations positions in various civil organizations in Kenya. He conducted research and training for the commonwealth parliamentary association, the East African legislative council and the Ethiopian national assembly.
Matiang'i was also a columnist for Kenya's leading newspaper, the Daily Nation.
He was a consultant working with USAID, the World Bank, and the Canadian International Development Agency (CIDA). He has worked with other international organizations before joining the cabinet. He was working as an East African representative in the Centre for International Development and teaching at Egerton University before he was appointed to the cabinet.
Fred Matiang'i Working in the Cabinet.
Ministry of ICT.
On 23 April 2013, the newly elected President Uhuru Kenyatta poached Dr. Matiang'i from his teaching profession and recruited him to his cabinet to lead the ministry of Information Communication and Technology (ICT).
While in the Ministry of ICT, he brought a revolution in the sector by ensuring that the country had gone through digital migration, from the use of analog electronic gadgets to digital ones. One of the most significant was migration from analog television sets that used quadrature amplitude to digital ones that use decoders and more advanced smart TVs.
During this time, he received a lot of criticism and controversies from broadcasters and concerned parties regarding the awarding of tenders and frequencies.
During the 2015 Kenya Certificate of Secondary Education, there was rampant cheating in the examination. The examination leakage was so splendid such that scheduled examination papers would be circulating on social media the night before the examination day. A lot of concerns were raised on the credibility of exams and a lot of questions were directed to the then Minister of Education Prof Jacob Kaimenyi.
Following these concerns, President Uhuru conducted an unprecedented cabinet reshuffling, appointing Dr. Matiang'i to Head the Ministry of Education. Matiang'i who was then serving as acting minister of Lands took his new role with diligence and within a short period of time, he had cleaned up the mess. He fired several corrupt people in the ministry including in the Examining body KNEC and brought in new staff with new policies.
Below are some of the most significant policies he implemented regarding the administration of National Examinations:
The Head Teachers/ School Principals would be directly in charge of examinations administered at their centers and would assume the role of the Centre manager instead of the County Education Officer as of earlier on.
The duration of administering the Kenya Certificate of Secondary Education (KCSE) was lowered from a maximum of 6 weeks to 4 weeks.
All social activities and functions in the third term of the academic year were banned to avoid unnecessary contacts between candidates and outsiders and allow them to prepare adequately for the examination.
The results of the KCSE were to be released within one month after conclusion other than the three months it took before. This was to avoid possible alteration of examination results by rogue officials in the council.
Read George Magoha Biography, Age, Career, Education, Family, Wife, Net Worth
The first group of students to be affected by these policies were the 2016 KCSE candidates. True to the claims, most schools that had been topping in national examinations in the previous years did not top that year. Also, the number of students who attained minimum university entry grade had reduced drastically. The ministry had to adjust the pass mark from B- to a lower C+. This has not changed since then.
Minister of Internal Security.
Matiang'i took up the role of acting Interior CS on 8 July 2017 after the sudden death of Joseph Ole Nkaissery, a move that saw him rule over two ministries. He was fully appointed to lead the interior ministry in January 2018 after the electioneering period was over. The president had unshakable confidence in Dr. Matiang'i following his exemplary performance in his previous tasks in the ministries of education and ICT. Matiang'i wore the wratles and immersed himself into the new role with a ruthless focus.
In January 2019, Matiang'i ordered the closure of three media houses during the illegal swearing-in of Raila Amollo Odinga as the people's president. This saw him receive backlash and criticism from the general public. He however maintained his stunt that the three media stations would remain shut until they had completed investigations on some individuals accused of causing incitement in the country.
Read George Kinoti DCI Biography, Age, Career, Education, Family, Wife, Net Worth
During the 2017 presidential election process, he launched a tough counter against opposition demonstrations against the IEBC Electoral Commission. The police would violently crash with opposition supports during their demonstrations that were normally held on every Monday.
After the illegal swearing of Raila Odinga, a National Resistance Movement (NRM) led by General Miguna Miguna was formed. However, the Movement was short-lived as Matiang'i shortly gazetted it an organized criminal sect, which led to its collapse.
Some of the individuals who were summoned by the Ministry of Interior security were Journalists Linus Kaikai and Larry Madowo, Ruaraka MP TJ Kajwang, and controversial lawyer DR Miguna Miguna. The series of crashes and misunderstandings between the government, opposition protesters, and NRM led to the untimely deportation of Dr. Miguna to Canada.
Matiang'i has since continued to perform his duties as the Cs while overseeing activities in all other ministries and chairing cabinet meetings.