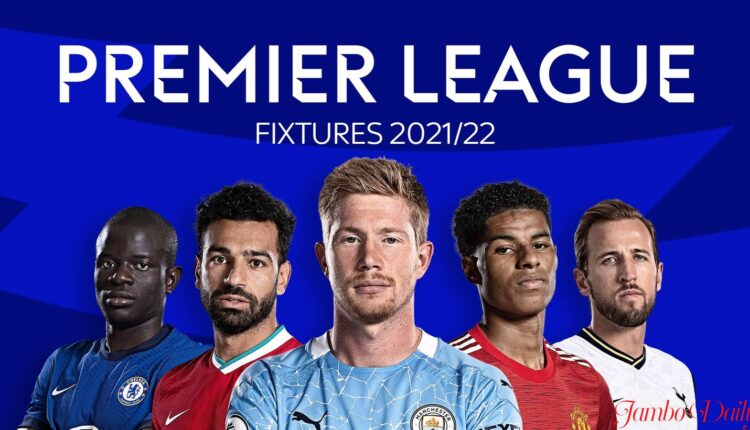 EPL Set to Resume This Weekend With These Fixtures.
The EPL-English Premier League 2021/2022 season begins on Friday 13 August with a match between Brentford and Arsenal. This comes after the season break between May and August 2021.
The much-awaited season shall run from Friday 13 August to Sunday 22 May 2022 with all the 380 matches set to be completed during this period.
The English premier league is arguably the most popular football league in the world.
According to a report released by Google in August 2021, English Premier League is the most searched item on google for the last 15 years followed closely by Sportpesa and Betin Kenya.
In the sports category, the Premier League takes the lead as the most searched item on google in Kenya, followed by the Champions League and Gor Mahia.
Most of the people who search EPL include football fans especially the young people who are die-hard fans of the teams they support.
With the resumption of the Premier League, this weekend shall be like no other. Considering the fact that Kenya has a huge fan base for football leagues, a lot of traffic and congestion is expected in clubs, restaurants, and gaming hubs.
Here is a list of Fixtures as the EPL kicks off this weekend.
Friday 13 August 2021 EPL Fixtures.
• Brentford Vs Arsenal- 22.00 Hrs.
Saturday 14 August 2021.
• Manchester United Vs Leeds United- 14.30 Hrs.
• Burnley Vs Brighton- 17.00 Hrs.
• Chelsea Vs Crustal Palace- 17.00 Hrs.
• Leicester Vs Wolves- 17.00 Hrs.
• Watford Vs Aston Villa- 17.00 Hrs. 
• Norwich Vs Liverpool- 19.30 Hrs.
Sunday 15 August 2021.
• Newcastle Vs West Ham- 16.00 Hrs.
• Tottenham Hotspurs Vs Manchester City- 1830 Hrs.
See More EPL Fixtures Here
All the games shall be available on the Supersport channel on DSTV. The fans shall be allowed to watch the matches live in full stadium capacities for the first time after the outbreak of the Covid-19 pandemic.
Read Arsenal: A Big Team With "Small Club Mentality"
For those who cant afford DSTV, there is no need to worry as you can watch DSTV for free. See the tutorial on how to watch DSTV for free here.
Premier League clubs were allowed to open up for a maximum of 10,000 fans or 25% of capacity for the final two matchdays last season.
It is now a sigh of relief for the sports gamblers as most rely on premier league games to 'invest' since they are easier to predict.
Betting has become one of the favorite activities among Kenyans especially the youth who rely on betting to raise some income.
You may also like: Top Searched Questions on Google Over 15 Years.
However, betting can be addictive and you should only gamble with the amount you can afford to lose.