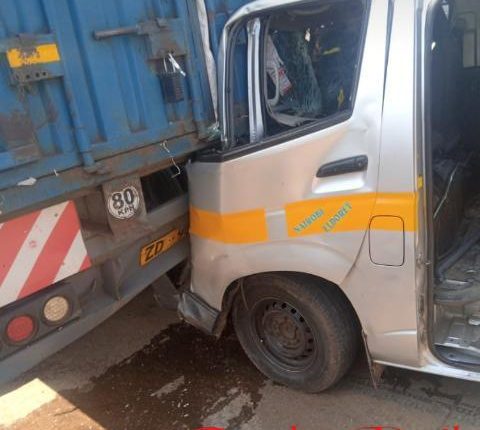 Eight Kenyatta University Students Survive a Road Accident in Eldoret
A matatu ferrying Kenyatta University students to Kitale was on Wednesday, March 31 involved in a road accident at Eldoret in the mid-morning hours. The accident occurred when the matatu rammed onto a trailer along Eldoret-Kitale highway but luckily no fatalities were reported.
Among the 8 students who were in the car, none was fatally affected save for a few minor injuries. According to one of the eyewitnesses, the matatu driver was overspeeding as he tried to challenge other drivers who were also transporting students to the same destination.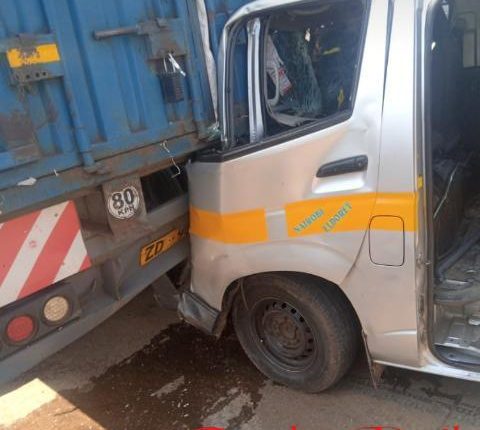 It is alleged that the driver of the affected vehicle was driving at a very high speed and could not negotiate with the speed governors when a trailer suddenly popped in front of the vehicle. He had no option but to crash with it.
The front part of the vehicle was mostly affected but lucky enough one of the students who was seated at the front had alighted just a few minutes before the accident. It is speculated that the front seat occupant could have been badly injured in the crash.
The students had remained in school awaiting directives from the university administration after President Uhuru Kenyatta ordered the closure of all universities and colleges on Friday 26 March.
Apparently, the university has been issuing transport passes to enable students traveling from the red zoned areas to be allowed to cross the barriers put at designated places. We wish the students who were injured in the accident a quick recovery.
Road accidents have become rampant on Kenyan roads in the recent years. According to research by Researchgate, about 3,000 people die from road accident in Kenya annually.
Most of these accidents are caused by overspeeding, wreckless driving, driving under influence of drugs and alcohol as well as driving unroadworthy vehicles.About 80% of the people who are affected by road accidents are passengers and pedestrians.