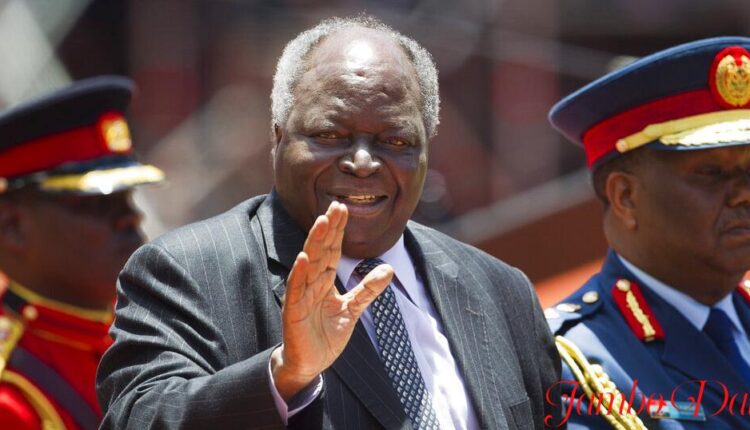 Directives to be Observed Following Death Of Ex-President Mwai Kibaki
President Uhuru Kenyatta on Friday 22 April 2022 announced the death of Kenya's 3rd president Mwai Kibaki. He was aged 90 at the time of his death.
He had served as Kenya's third president from December 2003 to April 2013 after which he handed over the mantle to Uhuru Kenyatta.
After announcing his demise, president Uhuru gave a list of directives to be followed prior to the burial of the deceased president.
The announcement was made at the statehouse in a televised press conference that was aired on Kenya Broadcasting Corporation Television (KBC).
The cabinet secretary, ministry of interior, and coordination of National Government Dr. Fred Matiangi directed that President Mwai Kibaki's state funeral will be held on Friday 29 April at Nyayo national stadium, after which he will be laid to rest at his Othaya home on Saturday 30 April in Nyeri County.
Directives to be observed following the death of Mwai Kibaki:
1. The nation will observe a period of national mourning until sunset of the day of his burial.
2. The former president shall be accorded a State Funeral with full Military Honours and Protocols being rendered and observed.
3. The flag of the Republic of Kenya shall be flown at half-mast at the statehouse, all Kenyan diplomatic missions, public buildings, public grounds, all military bases, posts, and stations, on all naval vessels of the Republic of Kenya, and elsewhere, throughout the entire territory of the Republic of Kenyauntill sunset on the day of his interment.
4. The president, the deputy president, the chief justice, cabinet secretaries, the speaker of the national assembly, the speaker of the senate, Kenya's diplomats abroad, and whomsoever else is authorized by the law, not to fly the national flag on their official motorcade until sunset on the day of his interment.
Read Mwai Kibaki Biography, Career, Age, Death, Wife, Legacy, and Net Worth
Further to these directives, the body of the former president shall lie in state in parliament buildings for public viewing from Monday 25 April to Wednesday 27 April.
The body shall be taken to nyayo National Stadium on Friday for a state funeral which will be attended by prominent leaders from various parts of the world.
Friday 29 April has been declared a public holiday in honor of the fallen president.
On Saturday Kibaki will be laid to rest at his othaya home in Nyeri County. During the period before his interment, his body shall lie at Lee Funeral Home.
Kibaki allegedly died while undergoing treatment at a Nairobi hospital as a result of a long illness that had bothered him since his retirement due to old age. He was taken in and out of the hospital for a series of treatments.
Several leaders have mourned him as a great leader who helped provide Kenya's economy to become the largest one in East Africa.